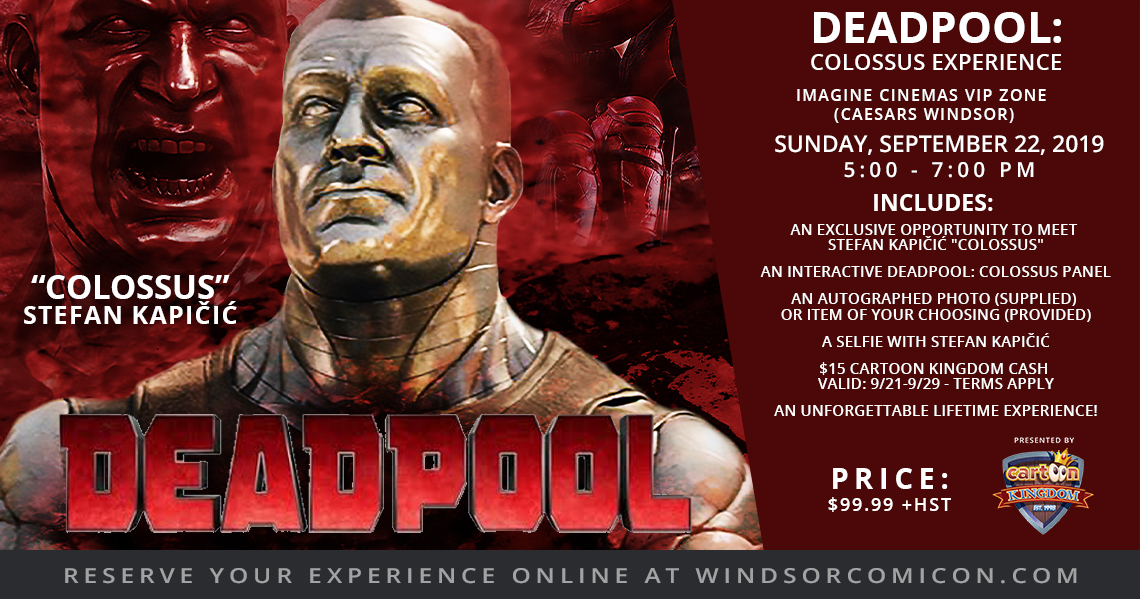 COMICON TO LAUNCH THE DEADPOOL: COLOSSUS EXPERIENCE
Windsor ComiCon Offers Attendees with an Unforgettable Once-in-a-Lifetime Deadpool: Colossus Experience!
Windsor, ON. Windsor ComiCon presented by Cartoon Kingdom is thrilled to launch the Deadpool: Colossus Experience. Led by Stefan Kapičić "Colossus", the Deadpool: Colossus Experience will offer fans an exclusive opportunity to interact with him in a unique environment. Details of this experience include:
Deadpool: Colossus Experience
Imagine Cinemas VIP Zone (Caesars Windsor)
Sunday, September 22, 2019 (5:00-7:00 p.m.)
Includes:
• An Exclusive Opportunity to Meet Stefan Kapičić "Colossus"
• An Interactive Deadpool: Colossus Panel
• An Autographed Photo (supplied) or item of your choosing (provided)
• A Selfie with Stefan Kapičić
• $15 Cartoon Kingdom Cash Valid: 9/21-9/29 – Terms Apply
• An Unforgettable Lifetime Experience!
Price: $99.99+HST
Fans can reserve a spot for their once-in-a-lifetime Deadpool: Colossus Experience online at https://www.windsorcomicon.com/tickets/ A ticket to Windsor ComiCon is required to participate in this experience as well.
"We are absolutely thrilled to offer fans this once-in-a-lifetime opportunity to meet a key Marvel and X-Men Character right here in Windsor!" says Cartoon Kingdom Co-Owner, Arlen Mifflin.
Windsor ComiCon is presented by Cartoon Kingdom.
*30*
Jeremy Renaud
General Manager – Windsor ComiCon
Phone: 519.566.1735 I Email: jeremy@windsorcomicon.com
ABOUT WINDSOR COMICON: Windsor ComiCon presented by Cartoon Kingdom is an all-ages event, featuring popular genres such as: comics, sci-fi, horror, gaming, and anime / cosplay. The colossal event will take place inside The Colosseum at Caesars Windsor (September 21-22, 2019). For more information, visit: www.windsorcomicon.com