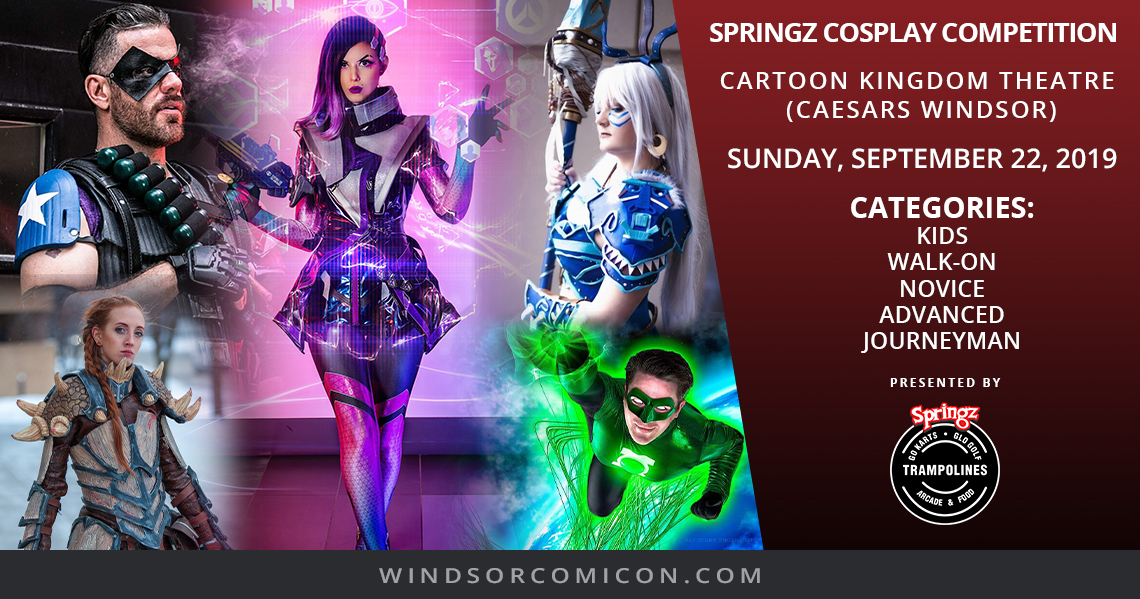 WINDSOR COMICON LAUNCHES SPRINGZ COSPLAY CONTEST AND PROGRAM
Over 500 Attendees to Participate in the 2019 Competition and Program!
Windsor, ON. Windsor ComiCon presented by Cartoon Kingdom is excited to launch its annual Springz Cosplay Contest and Program, which will culminate with its annual competition taking place on Sunday, September 22, 2019 from 4:45-6:00 p.m. inside the Cartoon Kingdom Theatre at Caesars Windsor.
The program, which has witnessed an overhaul since its past installment in 2018 will now see the introduction of a dedicated Cosplay Alley alongside the Cartoon Kingdom Exhibitor Floor, a handful of cosplayer announcements, a hybrid Q&A panel/workshop along with the annual competition sponsored by Springz Trampoline and Amusement Park.
"We are excited to see this year's program and competition grow!" says Windsor ComiCon Cosplay Coordinator, Sylvia Ward. "It's really great to see kids of all ages from the community dress-up as their favourite characters and we are greatly appreciative of the support from Springz."
In addition to the several program changes, costume dressed "cosplayers" will have the ability to participate in individual and group photo ops throughout the Show weekend while participating in a variety of Cosplay Meet-Up's spearheaded by Zombae. Prizes for the competition will be sponsored by Springz in 5 individual categories (ranging from the Springz Kids Contest, Springz Novice Contest, Springz Advanced Contest, Springz Journeyman Contest and the Springz Crowd Favourite Contest) with other prizing donated by Dream Costumes & Worbla Foam Supply along with Enchanted Adventure Parties.
To learn more about this year's Springz Cosplay Contest and Program; and to register, please visit: https://www.windsorcomicon.com/show-info/cosplay-contest-rules/
Windsor ComiCon is presented by Cartoon Kingdom.
*30*
Jeremy Renaud
General Manager – Windsor ComiCon
Phone: 519.566.1735 I Email: jeremy@windsorcomicon.com
ABOUT WINDSOR COMICON: Windsor ComiCon presented by Cartoon Kingdom is an all-ages event, featuring popular genres such as: comics, sci-fi, horror, gaming, and anime / cosplay. The colossal event will take place inside The Colosseum at Caesars Windsor (September 21-22, 2019). For more information, visit: www.windsorcomicon.com