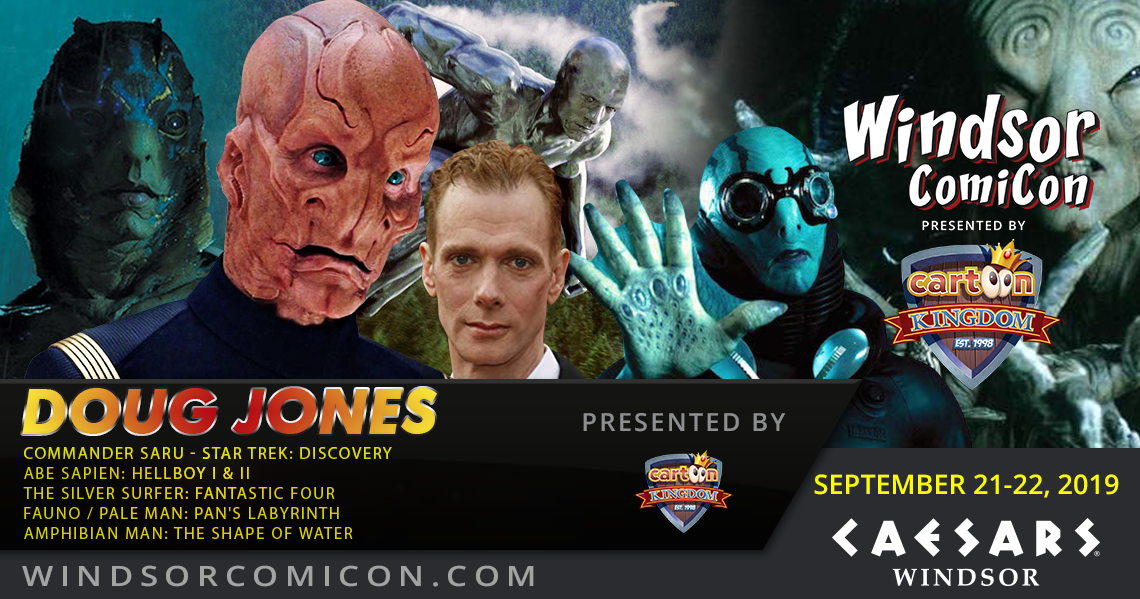 COMMANDER SARU TO LEAD DISCOVERY CREW TO WINDSOR COMICON
Windsor ComiCon Welcomes Doug Jones to Lead its 2019 Guest Line-Up.
Windsor, ON. Windsor ComiCon presented by Cartoon Kingdom is thrilled to welcome American actor, cartoonist and mime, Doug Jones to lead its 2019 Guest line-up.
Jones is known to fans for his current key role as Commander Saru aboard the U.S.S. Discovery via the wildly successful Star Trek: Discovery series.
Outside of the Star Trek Universe, Jones is best known for portraying inhuman creatures, usually via heavy make-up and/or visual effects, most notably in the films of Guillermo del Toro, with whom he frequently collaborates since 1997's Mimic.
He was featured in Del Toro's Hellboy (2004), Pan's Labyrinth (2006), Hellboy II: The Golden Army (2008), Crimson Peak (2015) and The Shape of Water (2017). His roles also include Hocus Pocus (1993), Tank Girl (1995), Fantastic Four: Rise of the Silver Surfer (2007), Ouija: Origin of Evil (2016), as well as the TV series Falling Skies (2013-2015) and del Toro's The Strain (2014-2016) have made him an iconic character across several pop culture genres.
To view Jones' complete resume, please visit: https://www.imdb.com/name/nm0427964/
"We are absolutely thrilled to welcome Doug Jones to the show," says Cartoon Kingdom Co-Owner, Arlen Mifflin "Cartoon Kingdom could not be happier to sponsor an extraordinary guest, such as Jones who has unlocked the imaginations of fans worldwide. He is the perfect fit for fans in our community!"
Jones will be on-site at show all weekend long during Windsor ComiCon presented by Cartoon Kingdom.
"We are confident that fans of Jones will be excited to meet him at Windsor ComiCon," says Cartoon Kingdom Co-Owner, Nat St. Pierre. "He will be a central figure of the show and upcoming Star Trek Discovery Experience, which will be a once-in-a-lifetime opportunity for fans to get up close and personal with him and other crew members."
Doug Jones is presented by Cartoon Kingdom.
Tickets for Windsor ComiCon 2019 will go on sale (both online and in-store) during the Week of July 22, 2019. VIP Experiences will also go on sale during the Week of July 22, 2019; online only at windsorcomicon.com
 *30*
Jeremy Renaud
General Manager – Windsor ComiCon
Phone: 519.566.1735 I Email: jeremy@windsorcomicon.com
ABOUT WINDSOR COMICON: Windsor ComiCon presented by Cartoon Kingdom is an all-ages event, featuring popular genres such as: comics, sci-fi, horror, gaming, and anime / cosplay. The colossal event will take place inside The Colosseum at Caesars Windsor (September 21-22, 2019).  For more information, visit: www.windsorcomicon.com