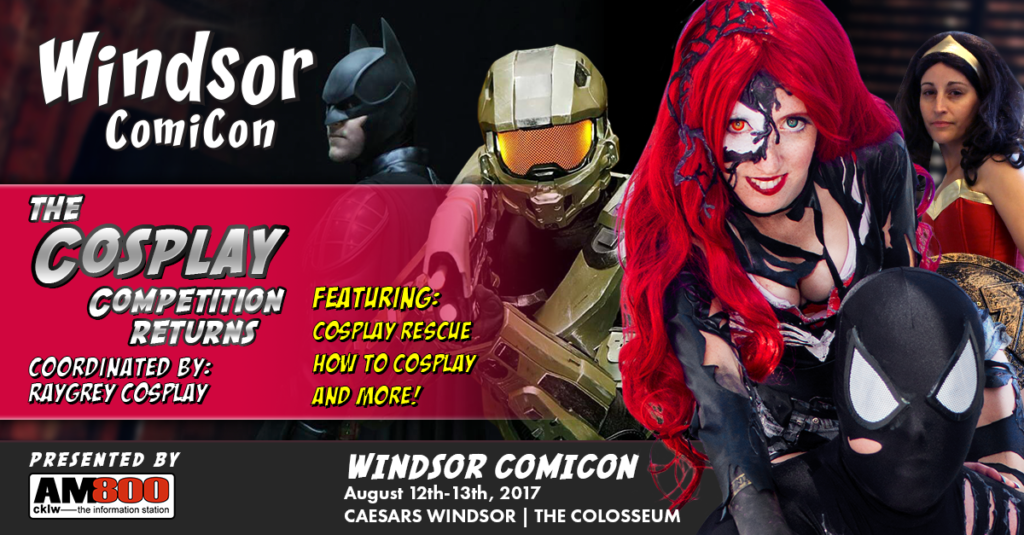 Cosplay Competition Returns to Windsor ComiCon!
Windsor ComiCon announces its Cosplay Program for 2017 coordinated by RayGrey Cosplay.
Windsor, ON. Windsor ComiCon is pleased to announce the return of its Cosplay Competition this summer inside The Colosseum at Caesars Windsor (August 12-13, 2017). With best dressed winners to be announced through the competition, costume players aka "Cosplayers" will have the opportunity to sign-up on-site at the show to showcase their talent and skills that feature a myriad of characters in the comic, anime and gaming related industries. In addition to this competition, a Cosplay Rescue program will be introduced for those who might need assistance in a moment of need as well as a "How to Cosplay" panel for aspiring individuals who want to learn how to become involved through a basic introduction to cosplay. A panel of cosplayers will share their experiences and answer questions of the audience.
At the helm of this year's program, Rachel Petersen aka RayGrey Cosplay, a Canadian cosplayer from Windsor, Ontario will serve as Windsor ComiCon's head cosplayer and coordinator. For Petersen, her journey began with her first visit to Fan Expo in Toronto where she discovered likeminded and active members of the cosplay community. This encouraged her to create and develop costumes inspired by the movie and comic book industry ranging Wonder Woman, Ariel from The Little Mermaid to Harley Quinn from Suicide Squad. An active promoter amongst the cosplay world, Petersen has set-up numerous events, built new costumes, attended photoshoots and created video tutorials and more. Always willing to support local non-profit organizations, she has dressed as Disney Princesses for Cystic Fibrosis Princess Ball and has volunteered to face paint at local comic stores on Free Comic Book Day to promote literacy. More recently, Petersen has crafted new additions to her collection including Erza Scarlet from the anime Fairy Tail, Belle from Beauty and the Beast and Maria from Assassin's Creed. Finally, she has been cast to play Cassandra, the Clairvoyant Stenographer in the upcoming comic book, Blood Sucking Lawyers by Jank. Petersen's work can be viewed at: www.RayGreyCosplay.com
"Partnering with Windsor ComiCon is a dream come true. Last year I had the privilege of working with Lou Ferrigno while visiting the Metropolitan Campus belonging to Windsor Regional Hospital, the Windsor Police Service Station and a Night of Heroes of event sponsored by Craft Heads Brewing Company via the Downtown Windsor Business Improvement Association. I can't wait to see what they have planned for me this year!" says Petersen.
"We are thrilled to provide a quality cosplay competition this year," says General Manager Colin Douglas. "With Petersen at the helm, we are confident a great competition and program will be offered for all participants."
The Cosplay Competition is presented by AM800 CKLW.
*30*
Jeremy Renaud
Marketing, Sponsorship & Public Relations Coordinator – Windsor ComiCon
Phone: 519.566.1735 I Email: jeremynrenaud@gmail.com
ABOUT WINDSOR COMICON: Windsor ComiCon is an all-ages event, featuring popular genres such as: comics, sci-fi, horror, gaming, and anime / cosplay. The colossal event will take place inside The Colosseum at Caesars Windsor (August 12-13, 2017). For more information, visit: www.windsorcomicon.com