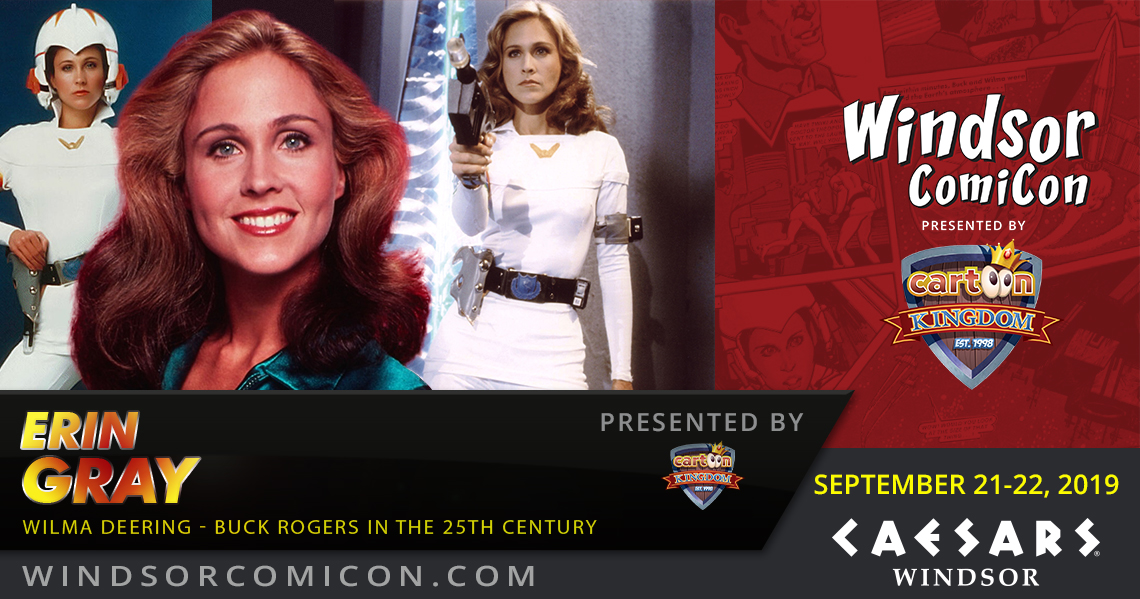 COLONEL WILMA DEERING HEADS TO THE COLOSSEUM!
Windsor ComiCon Welcomes Erin Gray to its 2019 Guest Line-Up.
Windsor, ON. Windsor ComiCon presented by Cartoon Kingdom is excited to welcome Erin Gray to this year's guest line-up. Gray, who portrayed Colonel Wilma Deering in the classic hit Buck Rogers in the 25th Century (1979), which debuted on September 20, 1979; almost 40 years to the day of her upcoming appearance to the show, which will be taking place at Caesars Windsor; September 21-22, 2019 served a pivotal inspiration to women currently serving in the military. She also paved the way for women in leadership roles, which are more evident in wildly successful shows of today trough the likes of Captain Kathryn Janeway aboard the USS Starship Voyager and Captain Kara "Starbuck" Thrace in Battlestar Galactica that were played by Kate Mulgrew and Katee Sackhoff respectively.
Beyond Earth's Defence Force fighting alongside Buck Rogers (and more often then not coming to his rescue), Gray was a recurring family favourite character through the 80's hit TV series Silver Spoons as the loveable Kate Summers-Stratton. She also played memorable key characters in variety of other series as Diana Kimble in Jason Goes to Hell: The Final Friday (1993), Chief Monica Johnson in Baywatch (1997) and Commodore Gray in Star Trek Continues (2014) to name a few.
To learn more about Gray's complete work, please visit: https://www.imdb.com/name/nm0001292/
"We are thrilled to welcome Erin Gray to this year's show," says Windsor ComiCon GM, Jeremy Renaud.
"To this day, Erin Gray continues to be an inspiration to all those she works with and will be a wonderful fan favourite amongst attendees who will have the rare opportunity to meet her this Fall."
Gray will be appearing at the show all weekend long and will be participating in a once-in-a-lifetime Buck Rogers Experience to commemorate the Buck Rogers 40th Anniversary, which will be taking place at the show this Fall. In addition to this, fans will also have the opportunity to meet her through a unique Silver Spoons: A Date with Kate Experience, which will take place at Spago's Trattoria on Saturday, September 21, 2019.
Erin Gray is presented by Cartoon Kingdom.
 *30*
Jeremy Renaud
General Manager – Windsor ComiCon
Phone: 519.566.1735 I Email: jeremy@windsorcomicon.com
ABOUT WINDSOR COMICON: Windsor ComiCon presented by Cartoon Kingdom is an all-ages event, featuring popular genres such as: comics, sci-fi, horror, gaming, and anime / cosplay. The colossal event will take place inside The Colosseum at Caesars Windsor (September 21-22, 2019).  For more information, visit: www.windsorcomicon.com