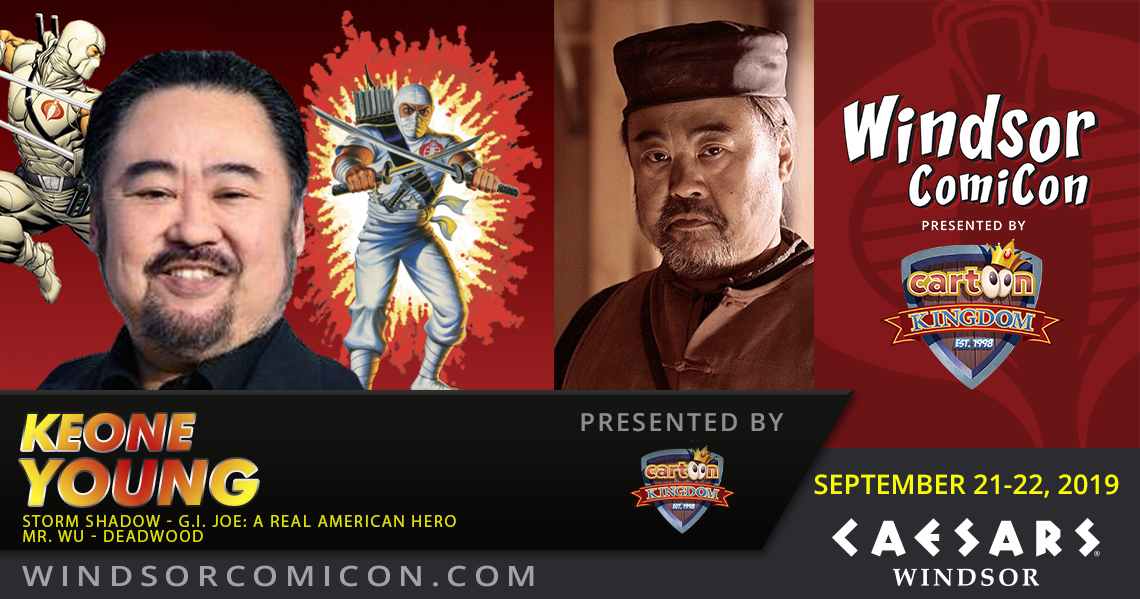 STORM SHADOW TO APPEAR AT WINDSOR COMICON
Windsor ComiCon Welcomes Keone Young to its 2019 Guest Line-Up.
 Windsor, ON. Windsor ComiCon presented by Cartoon Kingdom is pleased to welcome American actor Keone Young to its 2019 Guest line-up.
Known to fans worldwide as the iconic voice of Storm Shadow; a covert ninja assassin belonging to the ruthless terrorist organization determined to the rule the world 'COBRA' via the iconic 1980s Sunbow animated hit, G.I. Joe: A Real American Hero, Young would go on to please fans through a variety of TV shows and animated series. Young appeared on the HBO series Deadwood as Mr. Wu and played Henry Lin's Uncle on the FX series Sons of Anarchy. He also played Mr. Wu (unrelated to the Deadwood character), in the movie Men in Black 3.
Young also has many voice-over credits as well that range from the Firebending master Jeong Jeong in the Asian-influenced Avatar: The Last Airbender,  the Hard Master in G.I. Joe: Renegades through to Silver Samurai in X-Men: The Official Game and Wolverine and the X-Men plus Commander Sato in Star Wars Rebels.
To view Young's complete resume, please visit: https://www.imdb.com/name/nm0949775/
"We are excited to both welcome and sponsor Keone Young to the show," says Cartoon Kingdom Co-Owner, Arlen Mifflin. "He's been an influential character in the G.I. Joe Universe onto whom fans will be excited to meet."
"He's also been a prolific actor on shows like Diff'rent Strokes, The Golden Girls, Murphy Brown, Mad About You, Family Matters, Futurama, The Simpsons, Alias and daytime soaps like The Young and the Restless and Generations," says Cartoon Kingdom Co-Owner, Nat St. Pierre. "We're excited to sponsor guests like this and upwards of 3 more inclusive of this year's headliner leading into Windsor ComiCon."
Keone Young is presented by Cartoon Kingdom.
Tickets for Windsor ComiCon 2019 will go on sale (both online and in-store) during the Week of July 22, 2019. VIP Experiences will also go on sale during the Week of July 22, 2019; online only at windsorcomicon.com
 *30*
Jeremy Renaud
General Manager – Windsor ComiCon
Phone: 519.566.1735 I Email: jeremy@windsorcomicon.com
ABOUT WINDSOR COMICON: Windsor ComiCon presented by Cartoon Kindom is an all-ages event, featuring popular genres such as: comics, sci-fi, horror, gaming, and anime / cosplay. The colossal event will take place inside The Colosseum at Caesars Windsor (September 21-22, 2019).  For more information, visit: www.windsorcomicon.com