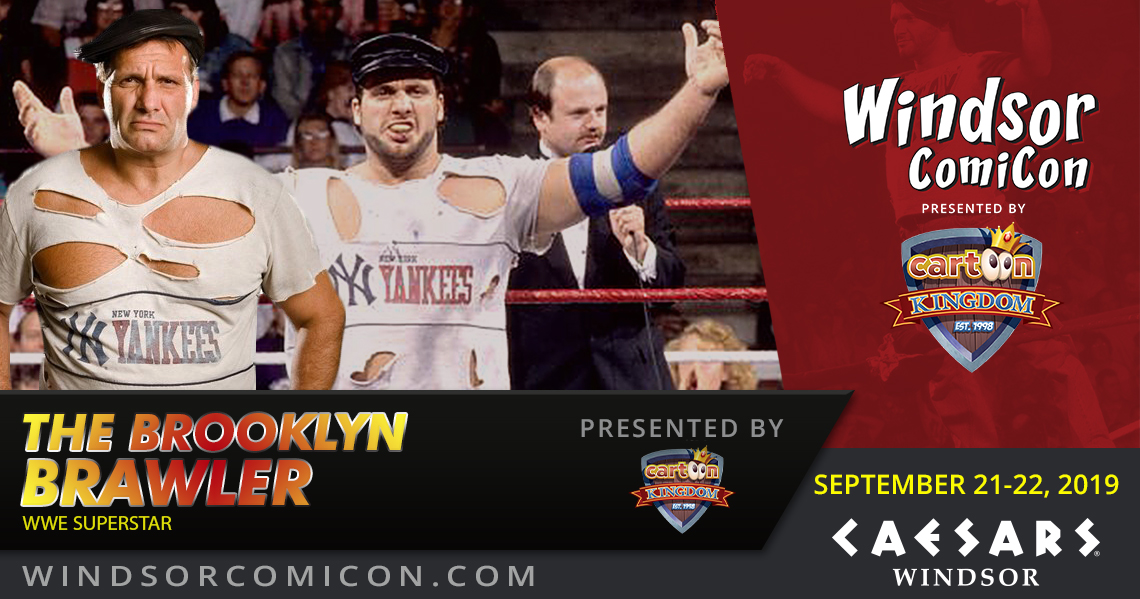 THE BROOKLYN BRAWLER HEADS TO WINDSOR!
Windsor ComiCon Welcomes Steve Lombardi to its 2019 Guest Line-Up.
Windsor, ON. Windsor ComiCon presented by Cartoon Kingdom is thrilled to welcome WWE Superstar, Steve Lombardi "The Brooklyn Brawler" to its 2019 guest line-up.
Lombardi began his WWF career in 1983 and had competed under his real name at that time. He then went on to make his official debut in 1989 as "The Brooklyn Brawler". The Brawler character was that of a street fighter, wearing battered jeans and a torn New York Yankees T-shirt. Under the tutelage of Bobby "The Brain" Heenan, the Brawler entered a feud with the Red Rooster. He would go on to lose to the Red Rooster twice but eventually redeem himself on a hot streak before departing the WWF.
Now firmly re-established as an enhancement talent, 1990 marked a first for Lombardi when he wrestled his debut match at a Pay Per View (PPV). At the 1990 Royal Rumble he was defeated by Paul Roma in a dark match, which marked the first of several PPVs where he would work the opening dark match to warm up the crowd. After sustaining numerous defeats to upper level talent such as Intercontinental Champion The Ultimate Warrior, Lombardi finally gained a measure of revenge by pinning The Red Rooster. He would enter a winning streak against the Rooster, who would soon depart from the WWF. Lombardi's most successful year in his career to date came in 1990 as he won 35 singles matches.
Since the late 1990s, Lombardi worked mostly as a road agent for WWF and only occasionally appearing in the ring, usually for comic skits and matches. Lombardi lost to Dwayne Johnson, who would later become The Rock, in Johnson's WWF tryout match on March 10, 1996. Johnson later recalled the match in his autobiography; praising Lombardi as a stand-up wrestler. Lombardi and Johnson faced off again on the February 28, 2000 taping of Raw is War as part of a storyline where The Rock was sent "back to the bottom of the ladder".
To learn more about Lombardi's career, please visit https://prowrestling.fandom.com/wiki/The_Brooklyn_Brawler
"We are pleased to welcome The Brooklyn Brawler to the show," says Windsor ComiCon President, Colin Douglas "Fans will recall his success as an Opening Card in many bouts throughout the 1990's."
The Brooklyn Brawler is presented by Cartoon Kingdom.
*30*
Jeremy Renaud
General Manager – Windsor ComiCon
Phone: 519.566.1735 I Email: jeremy@windsorcomicon.com
ABOUT WINDSOR COMICON: Windsor ComiCon presented by Cartoon Kingdom is an all-ages event, featuring popular genres such as: comics, sci-fi, horror, gaming, and anime / cosplay. The colossal event will take place inside The Colosseum at Caesars Windsor (September 21-22, 2019). For more information, visit: www.windsorcomicon.com