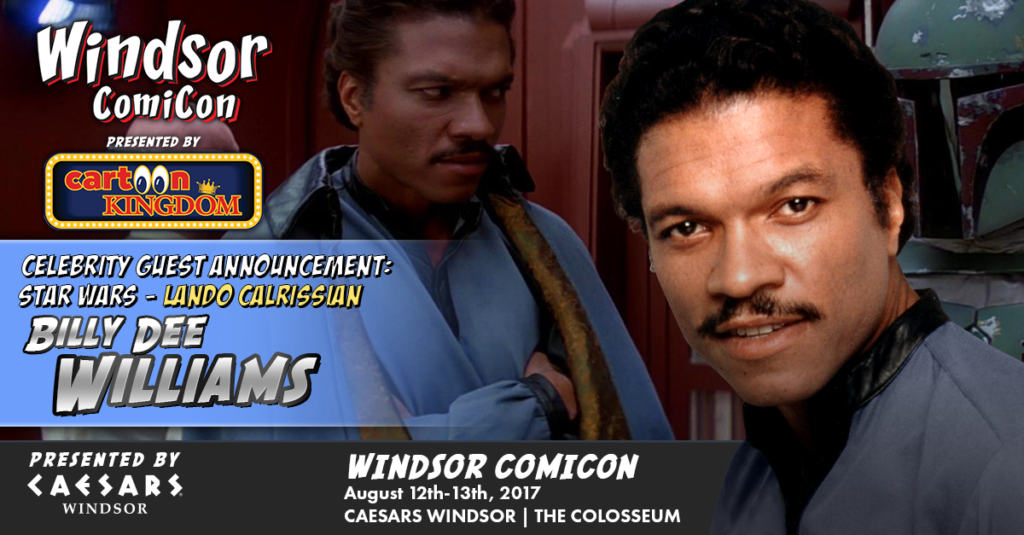 HEADLINER BILLY DEE WILLIAMS STRIKES BACK
Williams to Grace the Stars at The Colosseum.
Windsor, ON. Windsor ComiCon is pleased to welcome Billy Dee Williams as its headliner for the 2017 Season. William December "Billy Dee" Williams Jr. is an American actor, artist, singer and writer. He is best known for his role as Lando Calrissian in the Star Wars film franchise, as well as acting in the movies Brian's Song, Nighthawks, The Last Angry Man, Carter's Army and for playing Harvey Dent in Tim Burton's Batman (1989).
During his portrayal of Calrissian onto whom Williams played in The Empire Strikes Back and the Return of the Jedi, his charm proved to be exceptionally popular amongst audiences. Williams reprised his role lending his voice in the 2002 video game Star Wars Jedi Knight II: Jedi Outcast as well as the audio dramatization of Dark Empire, the National Public Radio adaption of The Empire Strikes Back, two productions for the Star Wars: Battlefront series: Star Wars: Battlefront II and Star Wars Battlefront: Elite Squadron and in two episodes od the animated TV series Star Wars: Rebels. In between the Star Wars film franchise, Williams starred alongside Sylvester Stallone in the 1981 thriller, Nighthawks.
As a cult classic, fans are very well aware that Williams co-starred in 1989's Batman as district attorney Harvey Dent, a role that was planned to develop into Dent's alter-ego, the villain Two-Face in sequels. Unfortunately for Williams, that never came to pass – he was set to reprise the role in the sequel Batman Returns, but his character was deleted and replaced with villain Max Shreck. Eventually, Williams voiced Two-Face in the 2017 film The Lego Batman Movie. 
"Windsor ComiCon is thrilled to feature legendary Star Wars actor Billy Dee Williams," says General Manager, Colin Douglas. "We are confident that fans will be over the moon with his appearance."
Billy Dee Williams is presented by Caesars Windsor.
*30*
Jeremy Renaud
Marketing, Sponsorship & Public Relations Coordinator – Windsor ComiCon
Phone: 519.566.1735 I Email: jeremynrenaud@gmail.com
ABOUT WINDSOR COMICON: Windsor ComiCon is an all-ages event, featuring popular genres such as: comics, sci-fi, horror, gaming, and anime / cosplay. The colossal event will take place inside The Colosseum at Caesars Windsor (August 12-13, 2017). For more information, visit: www.windsorcomicon.com