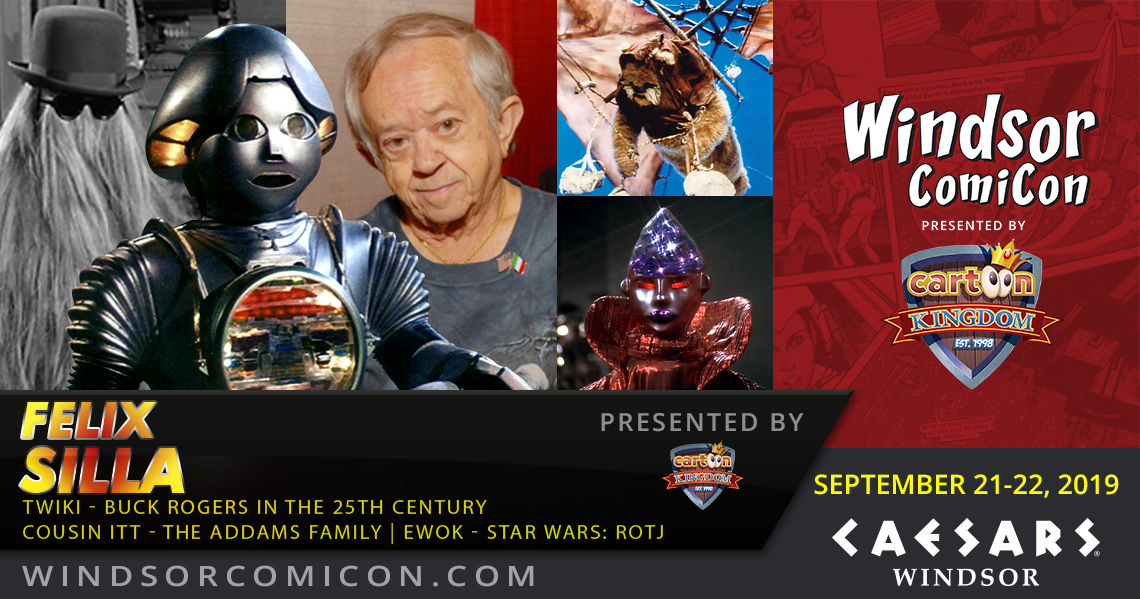 TWIKI HEADS TO THE COLOSSEUM!
Windsor ComiCon Welcomes Felix Silla to its 2019 Guest Line-Up.
 Windsor, ON. Windsor ComiCon presented by Cartoon Kingdom is pleased to welcome Felix Silla to this year's guest line-up. As a multi-faceted actor and stunt performer, Silla portrayed Twiki in the classic hit Buck Rogers in the 25th Century (1979), which debuted on September 20, 1979; almost 40 years to the day of his upcoming appearance to the show this Fall, which will be taking place at Caesars Windsor; September 21-22, 2019.
Silla also portrayed Cousin Itt in The Addams Family (1965), as a Talosian in Star Trek: The Original Series (1966), Litvak in The Black Bird (1975), Lucifer in Battlestar Galactica (1979), an Ewok in Star Wars: Return of the Jedi (1983), Dink in Spaceballs (1987) and Emperor Penguin in Batman Returns (1992).
To learn more about Silla's complete work, please visit: https://www.imdb.com/name/nm0798061/
 "We are thrilled to welcome Felix Silla to this year's show," says Nat St. Pierre, co-owner, Cartoon Kingdom. "Silla has portrayed a variety of characters that fans have come to love and enjoy through the generations."
Silla will be appearing at the show all weekend long and will be participating in a once-in-a-lifetime Buck Rogers Experience to commemorate the Buck Rogers 40th Anniversary, which will be taking place at the show this Fall.
Felix Silla is presented by Cartoon Kingdom.
 *30*
Jeremy Renaud
General Manager – Windsor ComiCon
Phone: 519.566.1735 I Email: jeremy@windsorcomicon.com
ABOUT WINDSOR COMICON: Windsor ComiCon presented by Cartoon Kingdom is an all-ages event, featuring popular genres such as: comics, sci-fi, horror, gaming, and anime / cosplay. The colossal event will take place inside The Colosseum at Caesars Windsor (September 21-22, 2019).  For more information, visit: www.windsorcomicon.com