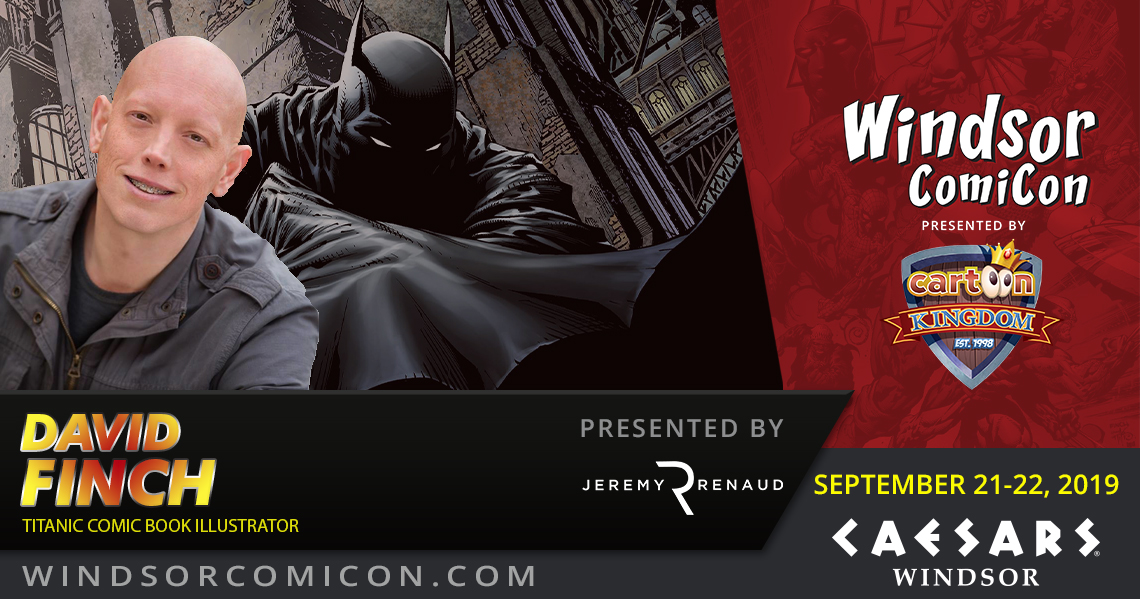 TITANIC COMIC BOOK ILLUSTRATOR HEADS TO WINDSOR
Windsor ComiCon Welcomes David Finch to its 2019 Guest Line-Up.
Windsor, ON. Windsor ComiCon presented by Cartoon Kingdom is pleased to welcome titanic comic book illustrator, David Finch to its 2019 guest line-up.
As a perennial favourite amongst comic book fans worldwide, Finch is a local comic book artist who received his start in the industry working for Top Cow Productions. After a lengthy stint on Cyberforce following series creator and studio founder Marc Silvestri, Finch went on to co-create Ascension with Matt "Batt" Banning. He would later work on the first three issues of Aphrodite IX with David Wohl.
In 2003, Finch returned to comics for a year-long arc on Ultimate X-Men with writer Brian Michael Bendis. Following that stint, the duo moved on to Avengers, where they destroyed Marvel's premiere superhero team only to relaunch it as The New Avengers featuring a radically different cast. He then worked on the new Moon Knight series together with novelist Charlie Huston. After he left the series, Finch illustrated Fallen Son: The Death of Captain America #4, featuring Spider-Man. His next assignment was the crossover event Ultimatum for the Ultimate Marvel Line along with writer Jeph Loeb who he previously worked with on Fallen Son. He also drew several covers, including those of World War Hulk, X-Men #200 and the X-Men: Messiah Complex one-shot.
During this time, Finch also illustrated the cover to Disturbed's 2008 album, Indestructible, as well as doing concept design for the film adaptation of Alan Moore's Watchmen.
In 2010, Finch left Marvel and became a DC Comics exclusive artist. He collaborated with Grant Morrison on Batman #700; an oversized anniversary issue. Later that July, DC announced that he would be writing and drawing a new ongoing series entitled Batman: The Dark Knight, which was the first story arc that dealt with the detective's more supernatural cases. The series launched with a January 2011 cover date though was relaunched later that same year as part of the company-wide reboot The New 52. From there, Finch and Geoff Johns launched a new Justice League of America series and the Forever Evil limited series in 2013; and later, with his wife Meredith, took over the creative duties on Wonder Woman beginning with issue #36 in 2015, which was their first collaborative effort. Finally, as part of the DC Rebirth relaunch of DC's titles, Finch teamed-up with writer Tom King to launch the Batman vol. 3 series in June 2016.
Finch will be appearing with his wife Meredith at Windsor ComiCon on Sunday, September 22, 2019. Fans will have the ability to learn more about his experiences in the comic industry while having their favourite books signed. To learn more about David Finch's work (and Meredith's), please visit www.dfinchartist.com
"We are thrilled to welcome David Finch to this year's show," says Windsor ComiCon President, Colin Douglas. "He helped establish the region's presence as a juggernaut in the comic industry with other local artists and writers."
David Finch is presented by Jeremy Renaud.
 *30*
Jeremy Renaud
General Manager – Windsor ComiCon
Phone: 519.566.1735 I Email: jeremy@windsorcomicon.com
ABOUT WINDSOR COMICON: Windsor ComiCon presented by Cartoon Kingdom is an all-ages event, featuring popular genres such as: comics, sci-fi, horror, gaming, and anime / cosplay. The colossal event will take place inside The Colosseum at Caesars Windsor (September 21-22, 2019).  For more information, visit: www.windsorcomicon.com