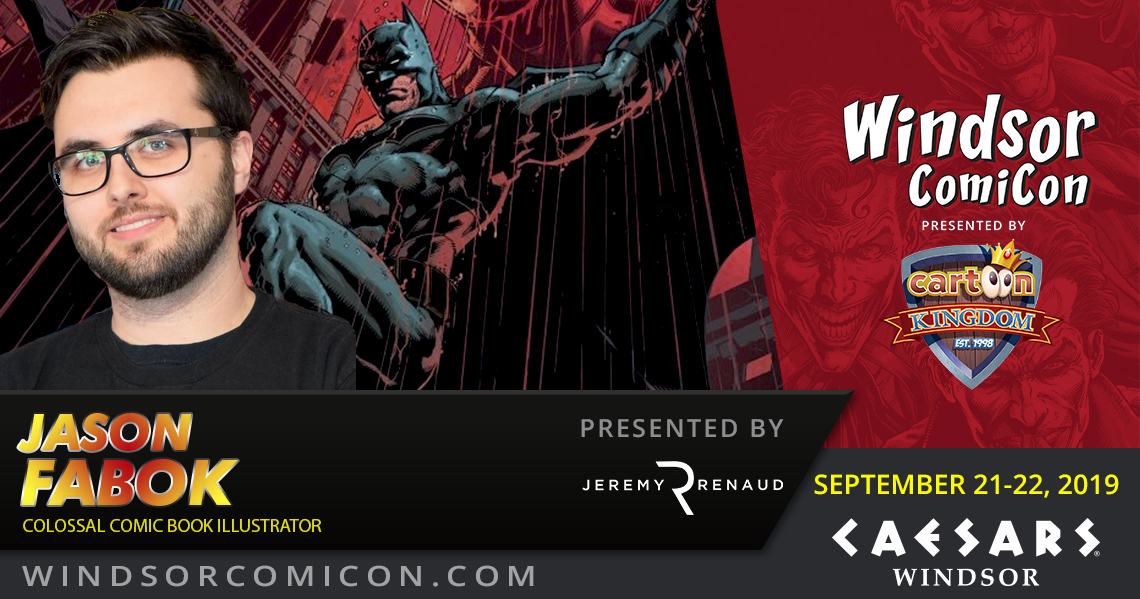 COLOSSAL COMIC BOOK ILLUSTRATOR HEADS TO WINDSOR
Windsor ComiCon to Welcome World-Class DC Comics Artist Jason Fabok on Batman Day.
Windsor, ON. Windsor ComiCon presented by Cartoon Kingdom is pleased to welcome colossal comic book illustrator, Jason Fabok to its 2019 guest line-up.
Going toe-to-toe with the likes of the The Joker and other villains belonging to Batman's Rogues Gallery has become commonplace for local resident Jason Fabok. As a world-class artist who was mentored under fellow resident David Finch, Fabok unleashed his creative genius when he illustrated Finch's final two issue of Batman: The Dark Knight. Shortly after, Fabok signed an exclusive deal with DC Comics where he serves as a leading artist, designer and illustrator.
With the launch of The New 52, Fabok drew various covers as well as the first Batman Annual and Justice League International Annual, before taking over the helm as the principal artist on Detective Comics (with issue #13) in collaboration with writer John Layman. Fabok would then go on to work on Batman: Eternal, Justice League and Suicide Squad before working on The Button in 2017, which was a crossover story arc from DC's Batman and Flash publications that served as build up towards the Doomsday Clock event.
More recently, Fabok teamed-up with DC Comics' writer Geoff Johns on Batman: Three Jokers that is being released in three 46-page issues under DC's Black Label imprint for mature readers. The story ties into main DC continuity to explain the Rebirth-era mystery of how three different versions of the Joker exist in main DC continuity. In addition to Batman, the miniseries stars Barbara Gordon (Batgirl) and Jason Todd (who took the mantle of the 2nd Robin after Dick Grayson and also the 2nd alias of the Red Hood), onto whom both have a dark history with the Joker.
Just under a month ago, Fabok won an Eisner Award for Best Short Story The Talk of the Saints in Swamp Thing Winter Special (DC) where he collaborated with DC Writer Tom King.
Fabok diversifies his skills as a sculptor and has worked on a variety of toys, collectibles and statues under the DC umbrella.
Fabok will be appearing at Windsor ComiCon on Saturday, September 21, 2019, which around the World will be celebrated as Batman Day. The purpose of Batman Day is to celebrate the anniversary of the character's first ever appearance (Detective Comics #27; May 1939) where he has grown into one of the world's most loved and recognizable characters featured in a variety of mediums.
Fans will have the ability to learn more about his experiences in the comic industry while having their favourite books signed. To learn more about Fabok's complete work, please visit https://www.dccomics.com/talent/jason-fabok
"We are ecstatic to both welcome and celebrate Jason Fabok at this year's show on Batman Day," says Windsor ComiCon GM, Jeremy Renaud. "Thanks to the combined creative efforts, passion and hard work of Jason Fabok and other local artists and writers…they have collectively made Windsor-Essex, per capita, a tried, tested and true comics' powerhouse throughout the nation and beyond. Fans from both sides of the border will be excited to meet him this Fall."
Jason Fabok is presented by Jeremy Renaud.
*30*
Jeremy Renaud
General Manager – Windsor ComiCon
Phone: 519.566.1735 I Email: jeremy@windsorcomicon.com
ABOUT WINDSOR COMICON: Windsor ComiCon presented by Cartoon Kingdom is an all-ages event, featuring popular genres such as: comics, sci-fi, horror, gaming, and anime / cosplay. The colossal event will take place inside The Colosseum at Caesars Windsor (September 21-22, 2019). For more information, visit: www.windsorcomicon.com