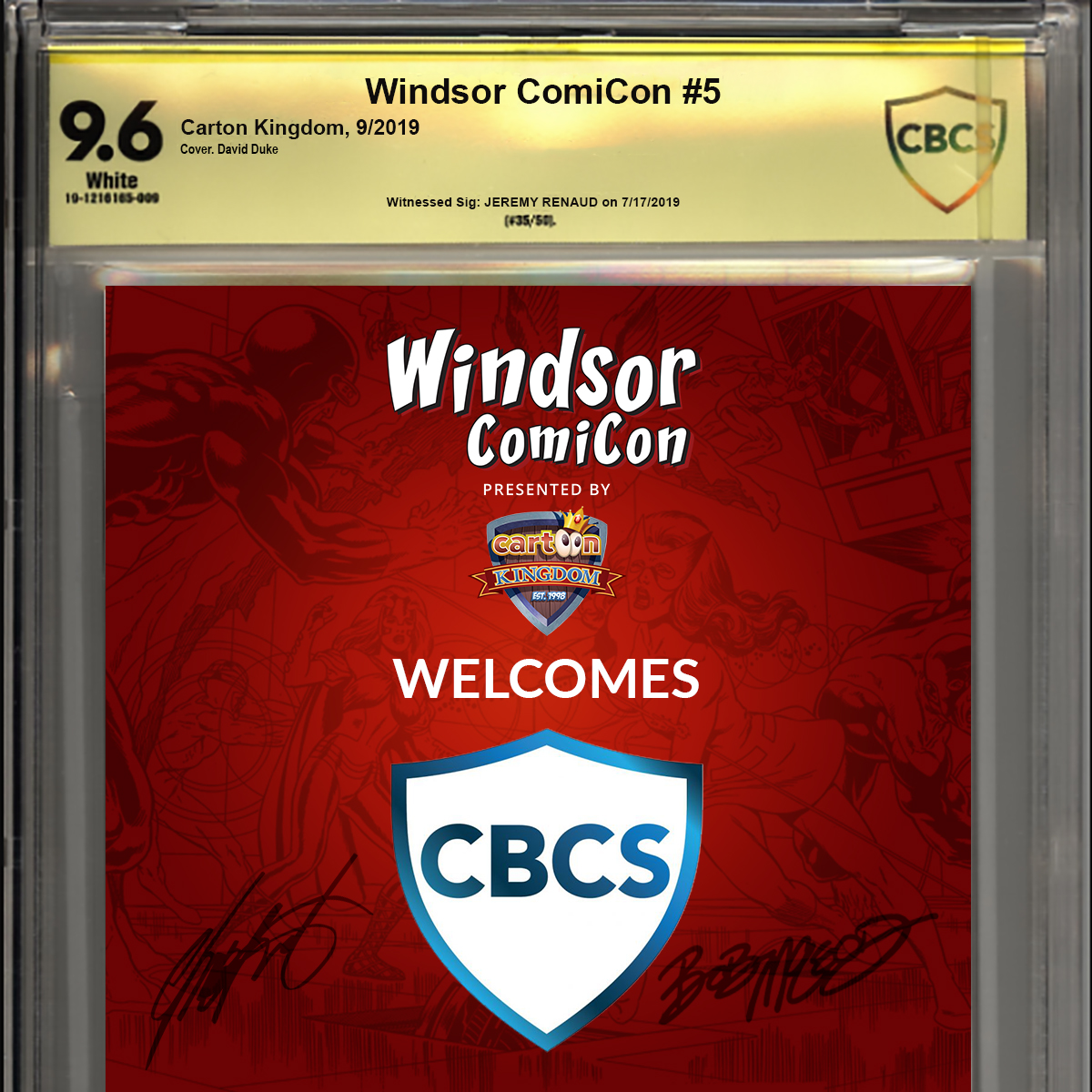 CBCS CELEBRATES ITS EXPANSION INTO CANADA AT WINDSOR COMICON
Windsor, ON. Windsor ComiCon presented by Cartoon Kingdom is pleased to welcome Comic Book Certification Services (CBCS) to its upcoming convention, which will take place at Caesars Windsor (September 21-22, 2019).
CBCS and Universal Distribution (Canada) have opened their first international facility in Oakville, Ontario, just a half an hour from Toronto. This new location strengthens the presence of CBCS in Canada and offers a single location for the sales support, submissions, and distribution of graded comics for the Canadian collecting community, with the help and support of Universal.
The comic book submission process is easier, faster, and designed specifically for Canadian customers.
Unique Benefits Include:
• Adjusted grading and return shipping rates
• A simplified submission process – Simple as DROP and GO
• Fast and accurate turnaround times (8 weeks max).
CBCS welcomes attendees to visit their booth at Windsor ComiCon to find out more about their new and improved Canadian services and show promotion. To easily locate them on-site, attendees can consult the show map and look for the CBCS icon. Their booth will be located across from this year's comic guests. The show map will be available on line and in print later this Fall.
"We are excited to welcome CBCS to the Show," says Windsor ComiCon President, Colin Douglas. "Fans who have requested their presence over the past 2 years will now have the ability to have their books certified and graded on-site. It's a unique addition to the convention."
Windsor ComiCon is presented by Cartoon Kingdom.
*30*
Jeremy Renaud
General Manager – Windsor ComiCon
Phone: 519.566.1735 I Email: jeremy@windsorcomicon.com
ABOUT WINDSOR COMICON: Windsor ComiCon presented by Cartoon Kingdom is an all-ages event, featuring popular genres such as: comics, sci-fi, horror, gaming, and anime / cosplay. The colossal event will take place inside The Colosseum at Caesars Windsor (September 21-22, 2019). For more information, visit: www.windsorcomicon.com