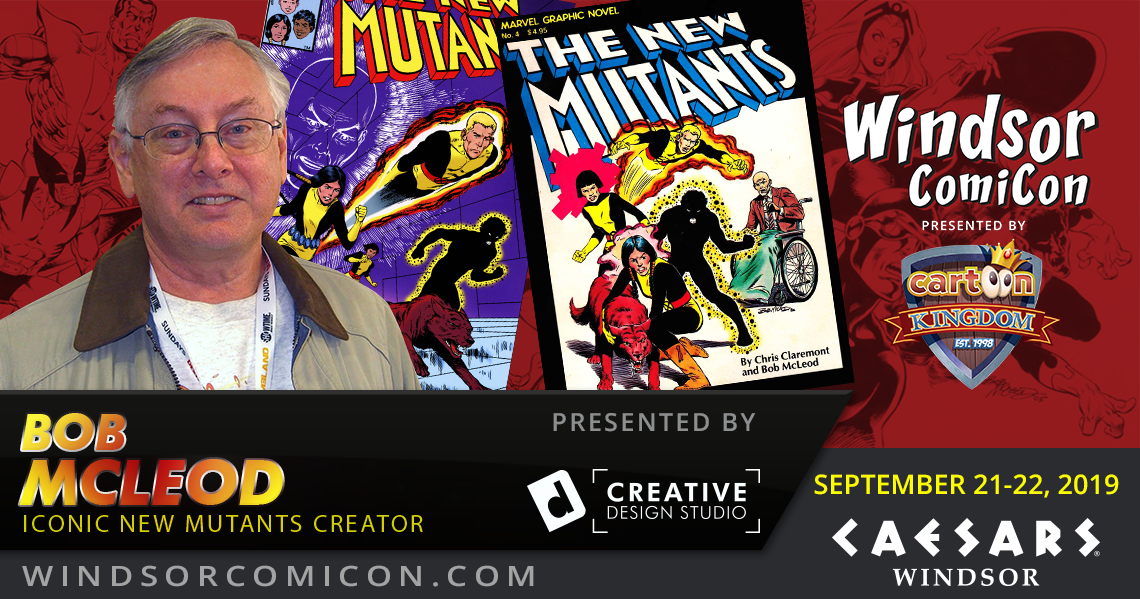 ICONIC NEW MUTANTS CREATOR HEADS TO WINDSOR
Windsor ComiCon Welcomes Bob McLeod to its 2019 Guest Line-Up.
Windsor, ON. Windsor ComiCon presented by Cartoon Kingdom is pleased to welcome American comics artist Bob McLeod to its 2019 Guest line-up. McLeod is best known for co-creating the New Mutants with writer Chris Claremont.
McLeod began his career working in the production department of Marvel Comics in 1973. He began penciling and inking for Marvel's Crazy Magazine and was also a member of The Crusty Bunkers inkers while working at Neal Adams' Continuity Studios. He became an inker at Marvel and DC Comics on many series, including The Incredible Hulk, Conan the Barbarian, Legion of Super Heroes, Detective Comics, Wonder Woman, and The New Titans, as well as penciling Star Wars and several Spider-Man fill-ins for Marvel. He drew the graphic novel and the first three issues of New Mutants and inked numerous issues that followed. In 1987, he inked Mike Zeck's pencils on the "Kraven's Last Hunt" storyline in the Spider-Man titles. At DC Comics, he was the artist on Superman in Action Comics in the early 1990s including the "Dark Knight Over Metropolis" storyarc. McLeod helped writer Louise Simonson and artist Jon Bogdanove launch a new Superman title, Superman: The Man of Steel in July 1991. With writer Roger Stern, McLeod contributed to such Superman tales as the 1991 story wherein Clark Kent finally revealed his identity as Superman to Lois Lane and the "Panic in the Sky" crossover in 1992.
McLeod would go on to draw for the Swedish publisher Egmont on The Phantom. He has written and illustrated a children's book, Superhero ABC, which was published by HarperCollins in 2006 and received starred reviews from School Library Journal and ABA Booklist. He also edited TwoMorrows Publishing's Rough Stuff magazine which featured interviews and art by top creators in the comics field. McLeod currently teaches part-time at the Pennsylvania College of Art and Design in Lancaster, Pennsylvania, and works on various commercial projects. In 2018, McLeod was awarded the Inkwell Awards Joe Sinnott Hall of Fame Award for his many years of inking.
"We are pleased to welcome Bob McLeod to show this Fall," says Windsor ComiCon President Colin Douglas. "Fans will be excited to meet him while getting their books signed along with his New Mutants key collaborator, Chris Claremont."
Bob McLeod will be on-site meeting with fans all weekend long during Windsor ComiCon. He will participate a Sketch Battle for Charity, a VIP event/panel; and will be taking commissions (sketches) on-site while autographing books for attendees. Prices will be posted online via windsorcomicon.com later this September.
Bob McLeod is presented by David Jacob Duke Creative Design Studios.
Tickets for Windsor ComiCon 2019 will go on sale (both online and in-store) during the Week of July 22, 2019. VIP Experiences will also go on sale during the Week of July 22, 2019; online only at windsorcomicon.com
 *30*
Jeremy Renaud
General Manager – Windsor ComiCon
Phone: 519.566.1735 I Email: jeremy@windsorcomicon.com
 ABOUT WINDSOR COMICON: Windsor ComiCon presented by Cartoon Kingdom is an all-ages event, featuring popular genres such as: comics, sci-fi, horror, gaming, and anime / cosplay. The colossal event will take place inside The Colosseum at Caesars Windsor (September 21-22, 2019).  For more information, visit: www.windsorcomicon.com