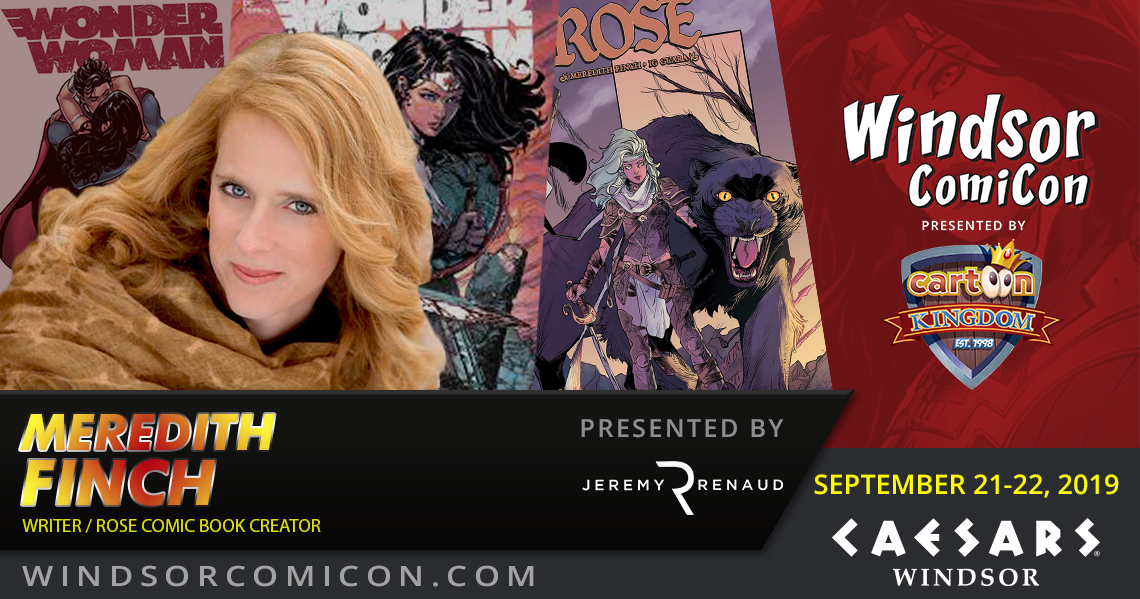 ROSE COMIC CREATOR HEADS TO WINDSOR COMICON
Windsor ComiCon Welcomes Meredith Finch to its 2019 Guest Line-Up
Windsor, ON. Windsor ComiCon presented by Cartoon Kingdom is pleased to welcome local writer and comic book creator, Meredith Finch to its 2019 guest line-up.
Known internationally for her work on DC Comics' Wonder Woman where she collaborated with her husband and legendary illustrator David, Finch both embodies and provides an authentic voice for the modern day female heroine.
In addition to this, she's written for a variety of titles including Catwoman (DC Comics), Grimm Fairy Tales Presents: The Little Mermaid (Zenescope) and Xena: Warrior Princess (Dynamite Comics).
Currently, she's writing her own creation, "Rose", for Image Comics, which combines her love of mythology with modern issues.
In 2018, she was nominated for a Joe Schuster Award for best writer for her work on Catwoman.
Finch will be appearing at Windsor ComiCon on Sunday, September 22, 2019. Fans will have the ability to learn more about her experiences in the comic industry while having their favourite books signed.
"We are pleased to welcome Meredith Finch to this year's line-up!" says Windsor ComiCon President, Colin Douglas. "She has been a focal point in the local community and role model for writers alike."
Meredith Finch is presented by Jeremy Renaud.
 *30*
Jeremy Renaud
General Manager – Windsor ComiCon
Phone: 519.566.1735 I Email: jeremy@windsorcomicon.com
ABOUT WINDSOR COMICON: Windsor ComiCon presented by Cartoon Kingdom is an all-ages event, featuring popular genres such as: comics, sci-fi, horror, gaming, and anime / cosplay. The colossal event will take place inside The Colosseum at Caesars Windsor (September 21-22, 2019).  For more information, visit: www.windsorcomicon.com