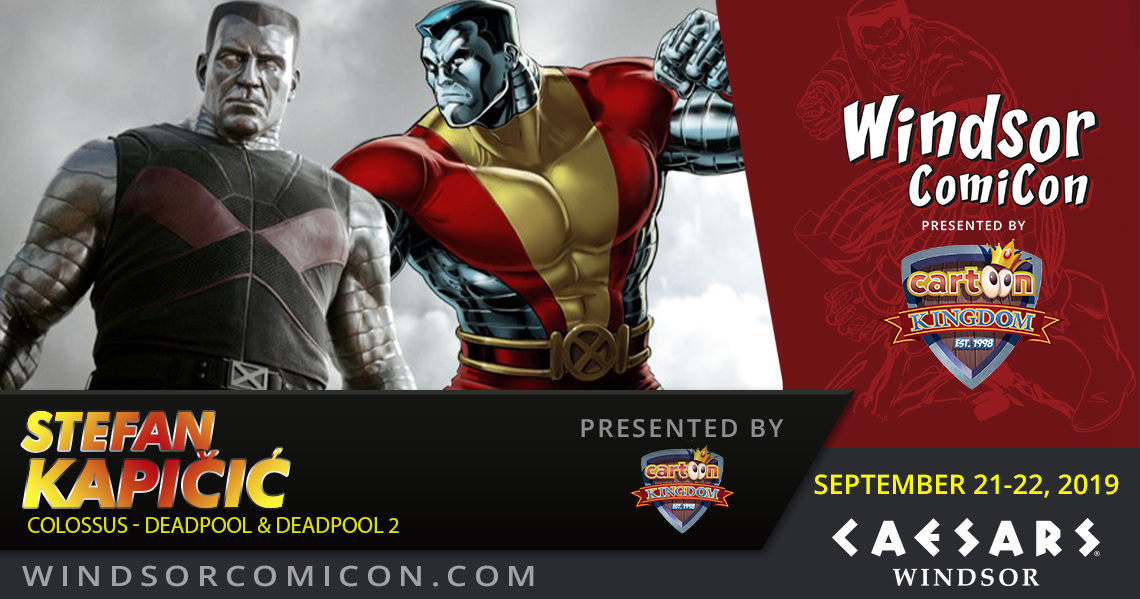 COLOSSUS HEADS TO THE COLOSSEUM!
Windsor ComiCon Welcomes Stefan Kapičić as its Final Guest for it's 2019 Line-Up!
Windsor, ON. Windsor ComiCon presented by Cartoon Kingdom is thrilled to welcome Stefan Kapičić as its final guest for it's 2019 guest line-up.
Kapičić is a Serbian actor best known for his role of Colossus in Deadpool (2016) and Deadpool 2 (2018). He is also member of Council for the Film Industry of Montenegro.
"We are pleased to welcome Stefan Kapičić to the show," says Windsor ComiCon Presenting Sponsor and Cartoon Kingdom Co-Owner Arlen Mifflin. "Fans will have the once-in-a-lifetime opportunity to meet him this Fall while learning more about his experiences working on Deadpool."
To learn more about Kapičić's career, please visit https://www.imdb.com/name/nm1292973/
Kapičić will be flying in from Croatia this Fall and will be appearing all weekend long during the show. He will also be participating in a unique Deadpool: Colossus Experience, which will be taking place on Sunday, September 22, 2019 at the tail-end of the show to cap off the 5th anniversary celebration of Windsor ComiCon presented by Cartoon Kingdom. More details of this experience will be released in the near future.
"This year is going to be a thrilling one for fans," says Cartoon Kingdom Co-Owner Nat St. Pierre, "and one where we are able to tie-in this key Marvel X-Men character back into the comic world onto whom another show guest, Chris Claremont, had developed for so many years on The Uncanny X-Men book."
Stefan Kapičić is presented by Cartoon Kingdom.
*30*
Jeremy Renaud
General Manager – Windsor ComiCon
Phone: 519.566.1735 I Email: jeremy@windsorcomicon.com
ABOUT WINDSOR COMICON: Windsor ComiCon presented by Cartoon Kingdom is an all-ages event, featuring popular genres such as: comics, sci-fi, horror, gaming, and anime / cosplay. The colossal event will take place inside The Colosseum at Caesars Windsor (September 21-22, 2019). For more information, visit: www.windsorcomicon.com