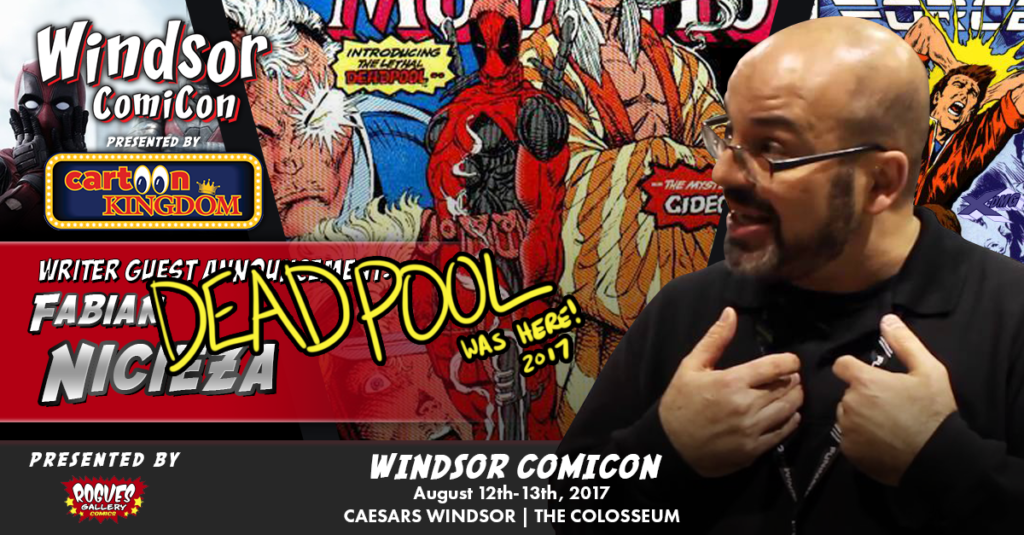 DEADPOOL CO-CREATOR TO STORM THE COLOSSEUM
Windsor ComiCon announces its 4th comic guest Fabian Nicieza.
Windsor, ON. Windsor ComiCon is thrilled to welcome Deadpool co-creator and accomplished writer and editor Fabian Nicieza as its 4th comic guest for the 2017 season.
Nicieza joined Marvel Comics in 1985 where he quickly progressed from being a manufacturing assistant through to an advertising manager followed by his first freelance work on Marvel Age (Marvel's Promotional Magazine). From there, he moved on to other published titles such as Psi Force within the Marvel's New Universe and eventually Classic X-Men. Marvel's (then) Editor in Chief, Tom Defalco would re-assign him to New Warriors before he took on titles such as Alpha Flight, the Avengers, Avengers Spotlight and a mini-series entitled Nomad; all while writing on numerous freelance projects including NFL SuperPro and Adventures of Captain America.
However, everything changed in 1991 when Nicieza joined forces with Rob Liefeld in co-plotting and writing the final issues of New Mutants. In those issues, the pair created Deadpool and Shatterstar as well as the super team, X-Force through which they produced an ongoing series. By the end of 1992, Nicieza would become a regular scripter for X-Men vol. 2; going on to assist in writing popular; multi-series story arcs including "X-Cutioner's Song", "Phalanx Covenant" and "Age of Apocalypse." During this period, Nicieza wrote the first Cable miniseries as well as the first few issues of the character's ongoing series along with Deadpool: The Circle Chase in 1993.
Nicieza has also written for many other popular titles including Captain Marvel, Spider-Man: The Final Adventure and Mighty Morphin Power Rangers before leaving the company. Eventually, he would appear at DC Comics and Acclaim Comics working on titles such as Solar, X-O Manowar and Ninjak while writing Turok and Troublemakers himself. Through his freelance work, Nicieza would go on to work on several projects including Thunderbolts.
Nicieza went on to write the Azrael: Death's Dark Knight mini-series, part of the Battle for the Cowl storyline which dealt with the Batman R.I.P. aftermath before continuing on with the new Azrael ongoing series. Later, he began writing on DC's Red Robin followed by Legion Lost. In 2016, for comics company Shatner Singularity, he adapted a Stan Lee poem into the graphic novel Stan Lee's 'God Wake', which won the 2017 Independent Publisher Book Awards' Outstanding Books of the Year Independent Voice Award.
"Windsor ComiCon is honoured to welcome this truly exceptional writer," says General Manager, Colin Douglas. "It is quite timely for fans to meet him at the show with a second Deadpool movie on the horizon, his creations have created quite the impact on the world of comics."
Fabian Nicieza is presented by Rogues Gallery Comics.
*30*
Jeremy Renaud
Marketing, Sponsorship & Public Relations Coordinator – Windsor ComiCon
Phone: 519.566.1735 I Email: jeremynrenaud@gmail.com
ABOUT WINDSOR COMICON: Windsor ComiCon is an all-ages event, featuring popular genres such as: comics, sci-fi, horror, gaming, and anime / cosplay. The colossal event will take place inside The Colosseum at Caesars Windsor (August 12-13, 2017). For more information, visit: www.windsorcomicon.com