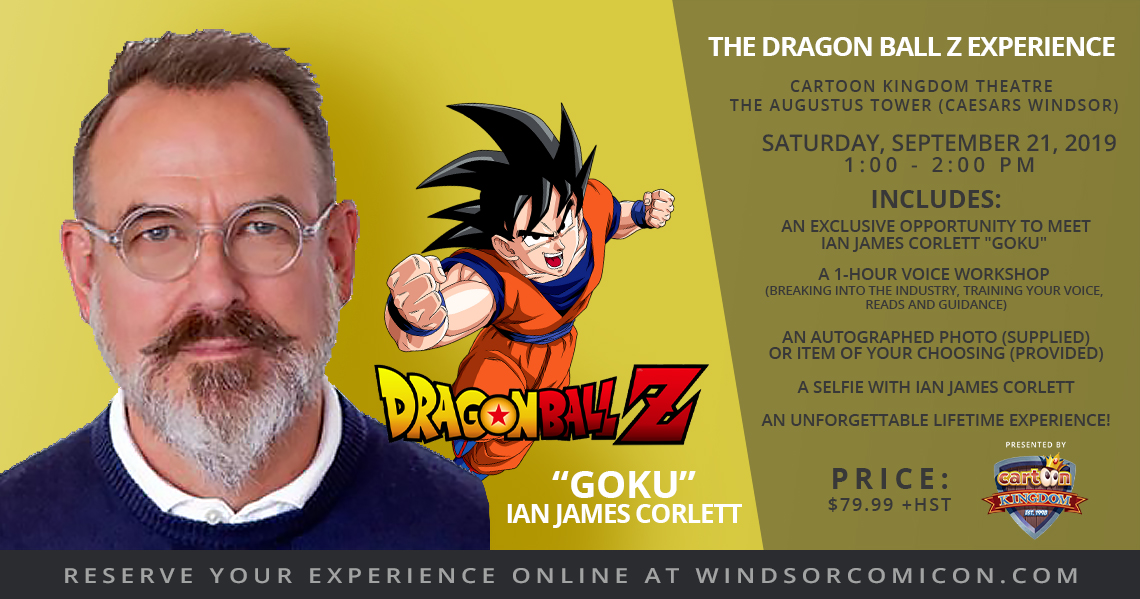 Windsor, ON. Windsor ComiCon presented by Cartoon Kingdom is pleased to offer anime fans its first experience of the 2019 season. Led by Canadian voice actor Ian James Corlett, the Dragon Ball Z Experience will offer fans an unforgettable experience on-site at the show later this Fall. Details of this experience include:
The Dragon Ball Z Experience
Cartoon Kingdom Theatre – The Augustus Tower (Caesars Windsor)
Saturday, September 21, 2019 (1:00 – 2:00 p.m.)
Includes:
• An Exclusive Opportunity to Meet Ian James Corlett "Goku"
• A 1-Hour Voice Workshop (breaking into the industry, training your voice, reads and guidance)
• An Autographed Photo (Supplied) or Item of Your Choosing (Provided)
• A Selfie with Ian James Corlett
• An Unforgettable Lifetime Experience!
Price: $79.99 +HST
Fans can reserve a spot for their once-in-lifetime experience now at https://www.windsorcomicon.com/tickets/
"This is a fabulous opportunity for fans to learn from Ian James Corlett through this rare experience," says Cartoon Kingdom Co-Owner, Arlen Mifflin "and as always, Cartoon Kingdom is pleased to sponsor and connect people with these unique opportunities….some things you never outgrow!"
About Ian James Corlett: Known worldwide to fans as the original English voice of Goku plus Master Roshi in the Saban dub of Dragon Ball Z in the 1990's, Corlett is the creator of Studio B Productions' animated series Being Ian and Yvon of the Yukon. He is also well known for his voice portrayals of Mega Man and Rush in Mega Man, Coconuts in the Adventures of Sonic the Hedgehog and Cheetor in Beast Wars and Beast Machines.
Windsor ComiCon is presented by Cartoon Kingdom.
*30*
Jeremy Renaud
General Manager – Windsor ComiCon
Phone: 519.566.1735 I Email: jeremy@windsorcomicon.com
ABOUT WINDSOR COMICON: Windsor ComiCon presented by Cartoon Kingdom is an all-ages event, featuring popular genres such as: comics, sci-fi, horror, gaming, and anime / cosplay. The colossal event will take place inside The Colosseum at Caesars Windsor (September 21-22, 2019). For more information, visit: www.windsorcomicon.com