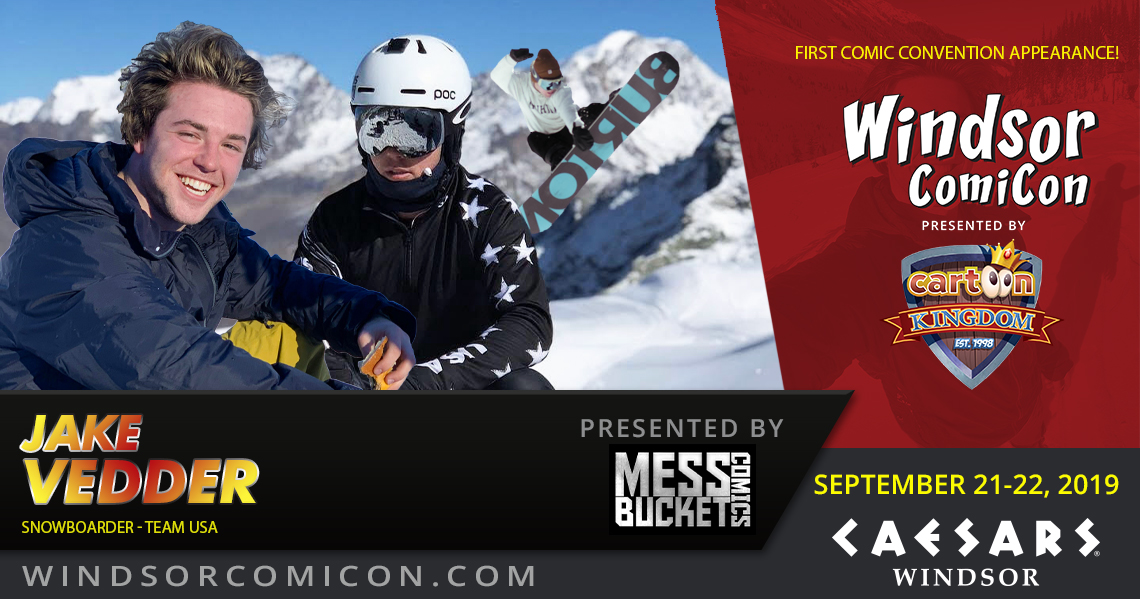 TEAM USA SNOWBOARDER HEADS TO WINDSOR!
Jake Vedder Debuts 1st ComiCon Convention Appearance at Windsor.
Windsor, ON. Windsor ComiCon presented by Cartoon Kingdom is thrilled to welcome Team USA snowboarder, Jake Vedder to its 2019 guest line-up. Vedder will be making his first comic convention appearance at Windsor this Fall.
Hailing from Pinckney, Michigan, Vedder has been a member of Team USA for nearly 4 years who had his breakout performance in 2016. He scored multiple Nor-Am Cup podiums, made his first World Cup appearance, and won the gold medal for the U.S. at the 2016 Winter Youth Olympic Winter Games. In 2018, Vedder became a junior world champion in Cardona, New Zealand. Currently, he is a member of the 2020 U.S. & Ski Snowboard Team who has his sights set on Beijing 2022.
Vedder will be joined with Mess Bucket Comics at the show this Fall. Dominic Riggio, owner of Mess Bucket Comics who is also making his first Canadian comic convention appearance, is a comic book writer that is producing Jake Vedder Path to the Olympics. In addition to this, they are producing the Darren McCarty life story graphic novel within 2 year's time. Mess Bucket Comics are also publishers of Donnybrook, a hockey comic series featuring Darren McCarty, Brian O'Halloran (of the Kevin Smith movie Clerks) and Brandon Inge, a former Detroit Tigers All-Star.
"We are pleased to welcome Jake Vedder to the show," says Windsor ComiCon President, Colin Douglas "Attendees will be excited to meet a real-life hero this Fall."
Jake Vedder is presented by Mess Bucket Comics.
*30*
Jeremy Renaud
General Manager – Windsor ComiCon
Phone: 519.566.1735 I Email: jeremy@windsorcomicon.com
ABOUT WINDSOR COMICON: Windsor ComiCon presented by Cartoon Kingdom is an all-ages event, featuring popular genres such as: comics, sci-fi, horror, gaming, and anime / cosplay. The colossal event will take place inside The Colosseum at Caesars Windsor (September 21-22, 2019). For more information, visit: www.windsorcomicon.com