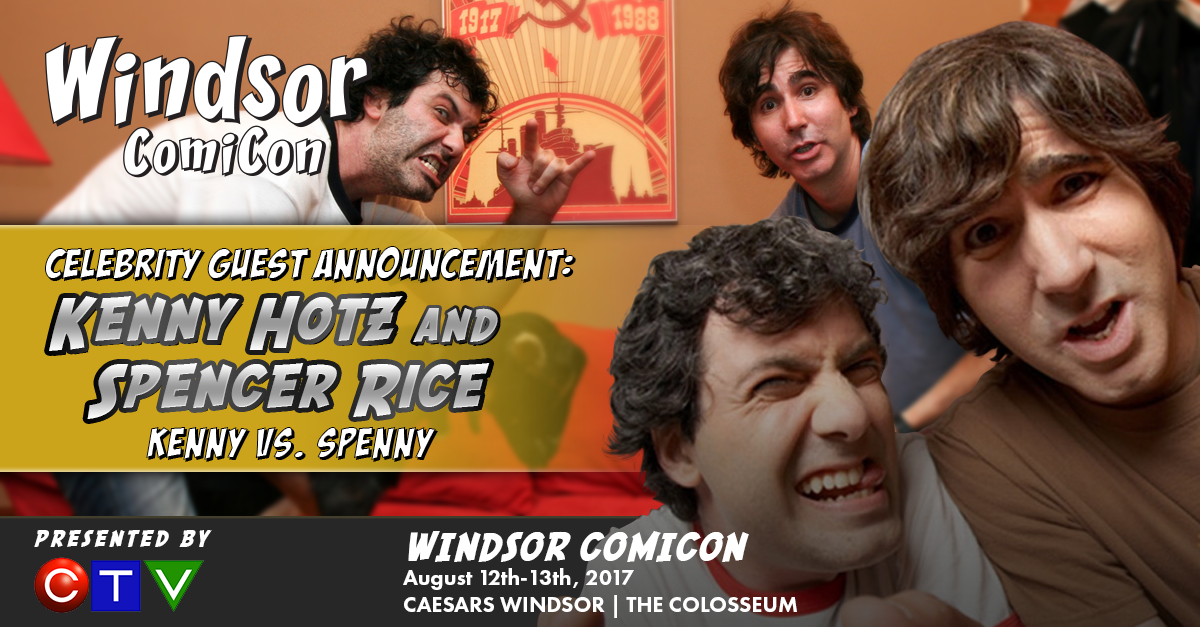 KENNY AND SPENNY TO DRIVE COMIC RELIEF
The infamous trickster pair of Canadian comedians hit The Colosseum.
Windsor, ON. Windsor ComiCon is excited to welcome it's first ever pair of Canadian comedians, Kenny Hotz and Spencer Rice to its line-up of guests for the 2017 season.
Kenneth Joel "Kenny" Hotz is a Canadian producer, writer, director, actor and comedian. As a jack of all trades in the entertainment world, Hotz is a South Park consultant and writer, creator/star of the Comedy Central television show Kenny vs. Spenny, creator and writer of the FX series Testees, plus the creator/star of Kenny Hotz's Triumph of the Will. He has received recognition for his various television work winning a Gemini Award and two Canadian Comedy Awards. Hotz has also received multiple film festival honours, is an award-winning Vice contributor and Gulf war photo-journalist.
The multitalented Spencer "Spenny" Rice is a Canadian producer, writer, director, actor and musician. He is the co-creator/star of the hit reality comedy series, Kenny vs. Spenny (Showcase/Comedy Central). He also created and starred in the scripted series Single White Spenny (Showcase) and the documentary series X-Rayted (Super Channel).  He also writes humour columns for two newspapers (Postmedia and Windsor Independent) and performs solo music across Canada. He has been nominated for Gemini Awards and has won the prestigious Telefest Award for his comedy short, Something Anything.
Currently, the pair of comedians are featured in comics books illustrated by local Windsorite Tony Gray, entitled 'Lou & Blue' featuring Kenny Hotz while illustrating the Spencer Rice / Tony Lee written comedy series, 'Sinista,' a live version of the show (featuring Rice, Lee and Gray on tour). 'Sinista' is written by Rice and Lee.
"Windsor ComiCon is thrilled to feature this pair of comedians," says General Manager, Colin Douglas. "They are one of the funniest Canadian television shows of this century."
Kenny and Spenny are presented by CTV.
*30*
Jeremy Renaud
Marketing, Sponsorship & Public Relations Coordinator – Windsor ComiCon
Phone: 519.566.1735 I Email: jeremynrenaud@gmail.com
ABOUT WINDSOR COMICON: Windsor ComiCon is an all-ages event, featuring popular genres such as: comics, sci-fi, horror, gaming, and anime / cosplay. The colossal event will take place inside The Colosseum at Caesars Windsor (August 12-13, 2017).  For more information, visit: www.windsorcomicon.com