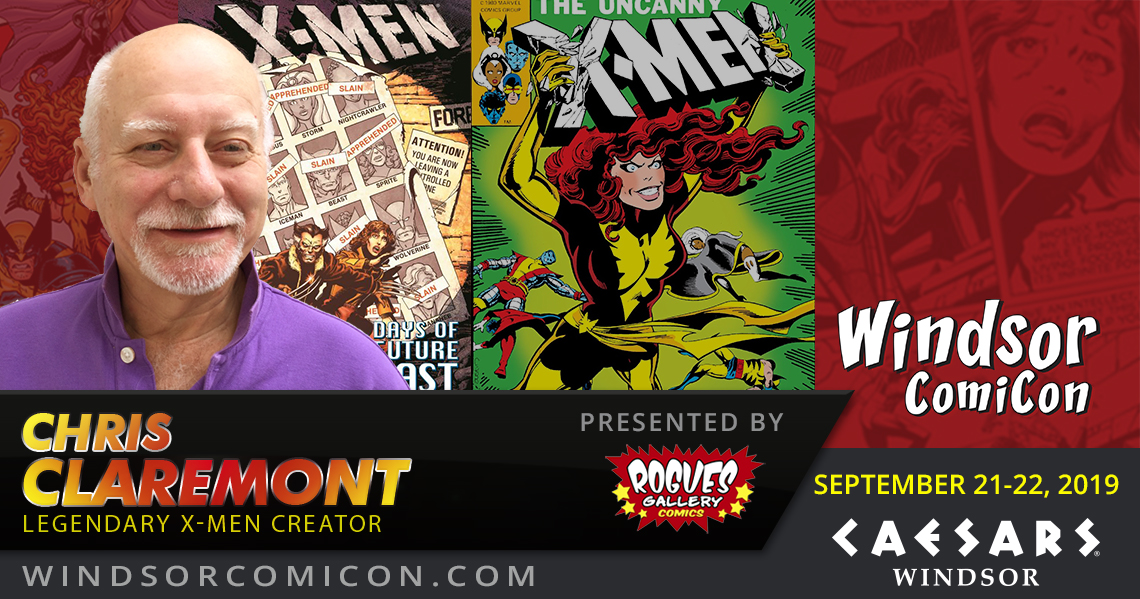 LEGENDARY X-MEN CREATOR HEADS TO WINDSOR
Windsor ComiCon Announces Chris Claremont as its First Guest of the 2019 Season.
Windsor, ON. Windsor ComiCon is pleased to announce its first guest of the 2019 season through legendary writer, Chris Claremont. Claremont's stories are trend-setters in the comic industry. Although best known for his work on Marvel Comic's X-Men series, where he created the characters of Legion, The New Mutants, Dark Phoenix, Rogue, Gambit, Sabretooth, Kitty Pryde and Mystique amongst many others, he has also written seminal characters such as Batman and Superman; originated The New Mutants and Captain Britain for Marvel and written several creator-owned series.
Claremont's initial unbroken 17-year run on Marvel Comics The Uncanny X-Men is the stuff of industry legend. During that tenure he took a lackluster series and transformed it into the dominant, best-selling title in the industry. His run culminated with the launch of the new title, X-Men. The first issue sold over 7.6 million copies. No one has come close to breaking this record. It is a conservative estimate Claremont has sold in excess of 750,000,000 comics, worldwide.
Furthermore, Claremont's work on the X-Men has brought resounding creative success. The story arc "Dark Phoenix," with its radical treatment of the story's central character, paved the way for the reinterpretation of superhero mythos throughout the comics industry. The graphic novel God Loves, Man Kills examines morality in all its guises, adding a sophistication to comics theory, and is the subject of academic papers. He has made Wolverine a household name.
Claremont is also well known for his progressive treatment of women in a genre that oftentimes relies on stereotype. Active, intelligent, courageous women characters such as Jean Grey, Kitty Pryde, Mystique, Rogue, and Storm have made Claremont's X-Men as popular with women readers as men, a rarity in the comics field. In addition to this, Claremont is equally well-known for his ground-breaking stories that fight prejudice and speak out for inclusivity for all, regardless of race, religion, gender or sexual orientation. These themes are highlighted in the "Genosha" story arcs in The Uncanny X-Men, and the "Mekanix" and "Intifada" story arcs in X-Treme X-Men. He embraced mutants as a metaphor for all who are viewed as outsiders by the majority. Such daring real-word topics are rarely tackled in the conservative mainstream comics industry, which he took on at personal and professional risk.
The Summer of 2000 saw the release of the feature film X-Men, based largely on material created by Claremont. The second Wolverine movie is based on the graphic novel Wolverine by Claremont and Frank Miller. The X-Men movie Days of Future Past hews to his story arc. The trend-breaking TV series Legion is based on his characters, as are the forthcoming movies The New Mutants and Dark Phoenix. Gambit, one of Claremont's most popular characters, is in production. Claremont's stories are responsible for billions in movie profits.
"We are thrilled to welcome this iconic writer," says President Colin Douglas. "Fans of X-Men and characters that Claremont created will be excited to meet him this Fall."
Chris Claremont is presented by Rogues Gallery Comics.
*30*
Jeremy Renaud
General Manager – Windsor ComiCon
Phone: 519.566.1735 I Email: jeremy@windsorcomicon.com
ABOUT WINDSOR COMICON: Windsor ComiCon is an all-ages event, featuring popular genres such as: comics, sci-fi, horror, gaming, and anime / cosplay. The colossal event will take place inside The Colosseum at Caesars Windsor (September 21-22, 2019). For more information, visit: www.windsorcomicon.com