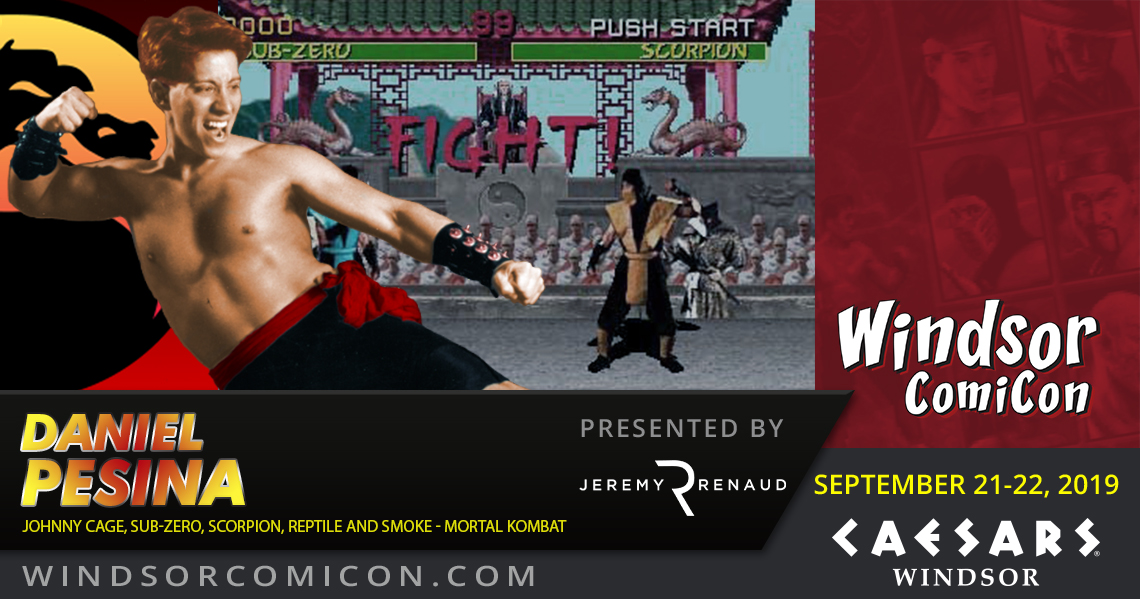 Mortal Kombat's Johnny Cage, Sub-Zero, Scorpion, Reptile and Smoke Head to Windsor via Daniel Pesina.
Windsor, ON. Windsor ComiCon is pleased to welcome American martial arts expert and actor, Daniel Pesina.
Known by fans worldwide through his direct involvement with the revolutionary Mortal Kombat series, Pesina portrayed several memorable characters, which include Johnny Cage, Sub-Zero, Scorpion, Reptile, Smoke and (at the time, an unplayable character) Noob Saibot via Mortal Kombat and Mortal Kombat II.
In an industry where creative leads stayed behind the scenes, in-game Actors like Pesina found cult success through screen capture "grabs" (considered revolutionary at that time), which would record live-action fighting movements that were directly incorporated into the game.
Pesina would go on to appear on the covers of magazines like Time and VideoGames while guest starring on UK's Gamemaster. He also appeared as one of Shredder's Foot Soldiers in the Teenage Mutant Ninja Turtles: The Secret of the Ooze (1991).
"As Johnny Cage, Pesina became an immediate star and main character of the Mortal Kombat franchise," says President Colin Douglas. "We are excited to welcome him to the show this Fall."
"Showing up as the first fighter on the character select with his image stretched across the arcade cabinet along with Sub-Zero and Scorpion made fans and I drop buckets of quarters at Fast Eddy's back in the day while screaming GET OVER HERE!" says General Manager, Jeremy Renaud.
Since its inception, Mortal Kombat has spanned over 18 fighting games and three non-fighting games, two theatrical films, and endless extended universe of comic book literature. The original Mortal Kombat is one of gaming's most influential titles ever.
Daniel Pesina is presented by Jeremy Renaud.
*30*
Jeremy Renaud
General Manager – Windsor ComiCon
Phone: 519.566.1735 I Email: jeremy@windsorcomicon.com
ABOUT WINDSOR COMICON: Windsor ComiCon is an all-ages event, featuring popular genres such as: comics, sci-fi, horror, gaming, and anime / cosplay. The colossal event will take place inside The Colosseum at Caesars Windsor (September 21-22, 2019). For more information, visit: www.windsorcomicon.com