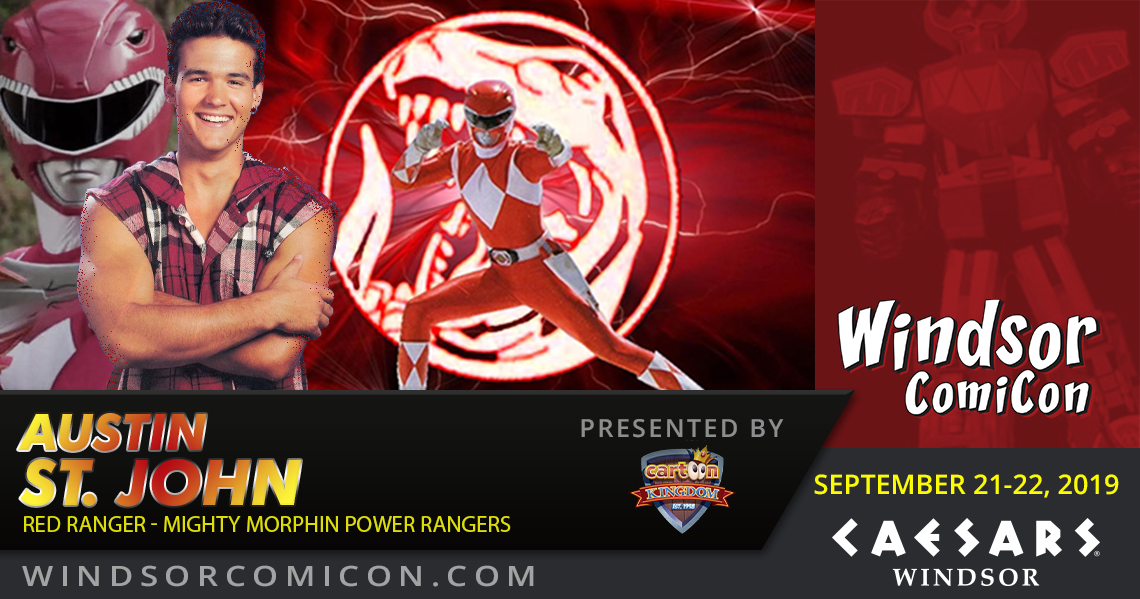 Windsor ComiCon Welcomes Austin St. John, The Original Red Power Ranger to its 2019 Guest Line-Up.
Windsor, ON. Windsor ComiCon is pleased to welcome American actor and martial artist Austin St. John to its 2019 Guest Line-Up.
St. John portrayed Jason Lee Scott, the original Red Ranger in the Mighty Morphin Power Rangers series. He is the team's leader and key protagonist of the hit Fox Kids series, which debuted in 1993 that had led the Rangers to multiple victories.
St. John would go on to star in 79 episodes of the original series before taking on the mantle of the Gold Zeo Ranger in Power Rangers: Zeo where he appeared in another 17 episodes. He also starred in Power Rangers: The Lost Episode (1999) and Power Rangers: Wild Force (2002) again as the Red Power Ranger; and is currently in pre-production for Power Rangers: Beast Morphers, which will be released in 2020.
In addition to the various television series', St. John appeared as Jason Lee Scott in Turbo: A Power Rangers Movie (1997) while lending his voice to Power Rangers: Battle for the Grid (2019) video game.
St. John's character Jason Lee Scott, is often considered by fans to be the best Red Ranger and the best Power Ranger ever, and in a contest run by ABC Family in 2004, Jason was voted the best Power Ranger of all time (source: https://tinyurl.com/y53252rt).
"We are pleased to both sponsor and welcome Austin St. John to Windsor," says Cartoon Kingdom Co-Owner Nat St. Pierre."
"Fans of the Red Ranger and Power Rangers series will be able to meet Austin St. John all weekend long at this year's show," says Windsor ComiCon President Colin Douglas.
Austin St. John is presented by Cartoon Kingdom.
*30*
Jeremy Renaud
General Manager – Windsor ComiCon
Phone: 519.566.1735 I Email: jeremy@windsorcomicon.com
ABOUT WINDSOR COMICON: Windsor ComiCon is an all-ages event, featuring popular genres such as: comics, sci-fi, horror, gaming, and anime / cosplay. The colossal event will take place inside The Colosseum at Caesars Windsor (September 21-22, 2019). For more information, visit: www.windsorcomicon.com