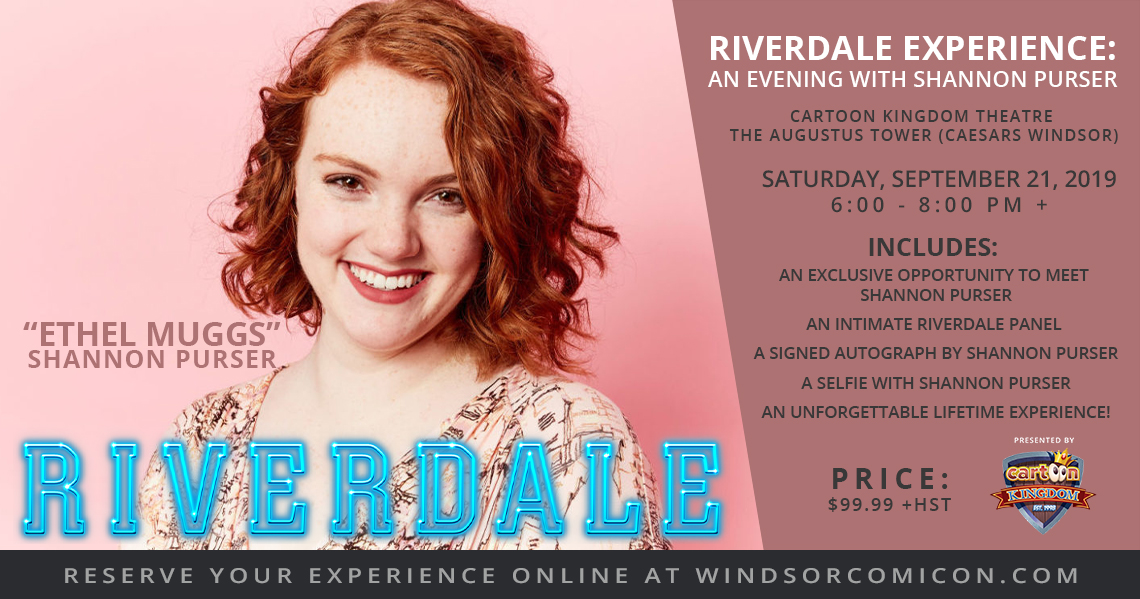 RIVERDALE EXPERIENCE: AN EVENING WITH SHANNON PURSER
Windsor, ON. Windsor ComiCon presented by Cartoon Kingdom is pleased to offer Riverdale fans its next exciting experience of the 2019 season. Led by American actress Shannon Purser, the Riverdale Experience will offer fans an intimate opportunity to interact with her in a unique environment later this Fall. Details of this experience include:
Riverdale Experience: An Evening with Shannon Purser
Cartoon Kingdom Theatre – The Augustus Tower (Caesars Windsor)
Saturday, September 21, 2019 (6:00 – 8:00 p.m.+)
Includes:
An Exclusive Opportunity to Meet Shannon Purser
An Intimate Riverdale Panel
A Signed Autograph by Shannon Purser
A Selfie with Shannon Purser
An Unforgettable Lifetime Experience!
Price: $99.99 +HST
Fans can reserve a spot for their once-in-lifetime Riverdale experience online at https://www.windsorcomicon.com/tickets/
A ticket to Windsor ComiCon is required to participate in this experience.
"We are excited to offer this experience to all attendees of Windsor ComiCon," says Cartoon Kingdom Co-Owner, Nat St. Pierre "Fans of Riverdale and Stranger Things will have the opportunity to mingle with her in an intimate setting."
About Shannon Purser: Purser portrays Ethel Muggs in The CW's teen drama series Riverdale. She is a character based off of the Archie Comics' one; a Riverdale High School student who made her 1st appearance in Archie's Pal Jughead #84 (May, 1962). Prior to Riverdale, Purser made her acting debut in the Netflix science fiction drama series Stranger Things. She portrayed the character Barbara Holland, an intelligent and outspoken girl, who is the best friend of Nancy Wheeler (Natalia Dyer). Despite her only being a minor character, several outlets called Barb one of their favorite characters.
Windsor ComiCon is presented by Cartoon Kingdom.
 *30*
Jeremy Renaud
General Manager – Windsor ComiCon
Phone: 519.566.1735 I Email: jeremy@windsorcomicon.com
ABOUT WINDSOR COMICON: Windsor ComiCon presented by Cartoon Kingdom is an all-ages event, featuring popular genres such as: comics, sci-fi, horror, gaming, and anime / cosplay. The colossal event will take place inside The Colosseum at Caesars Windsor (September 21-22, 2019).  For more information, visit: www.windsorcomicon.com