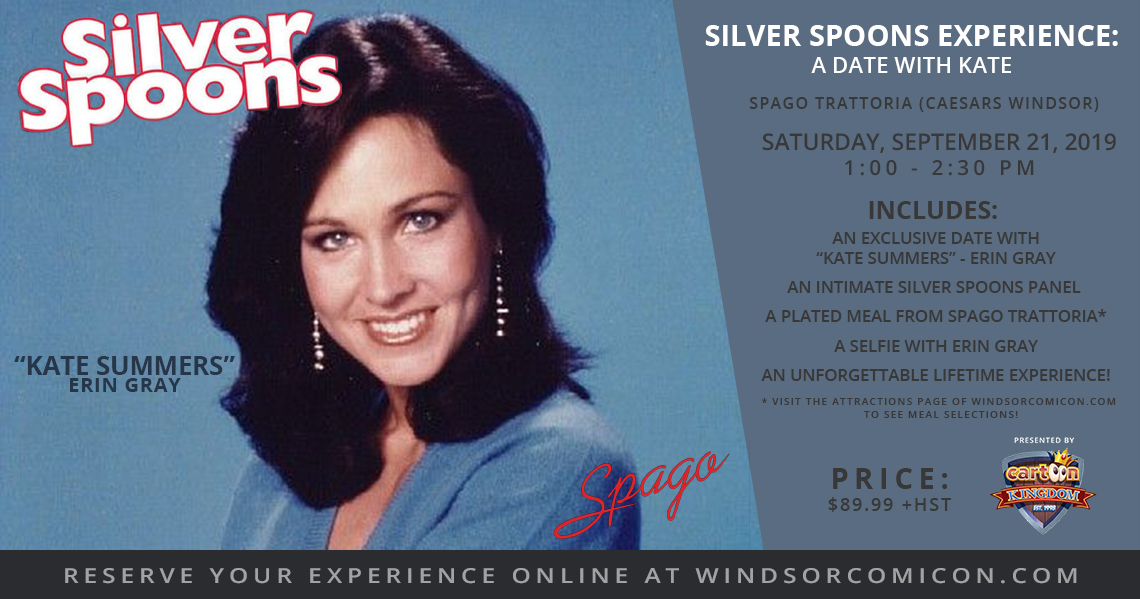 SILVER SPOONS: A DATE WITH KATE EXPERIENCE!
Windsor ComiCon Offers Attendees with an Unforgettable Once-in-a-Lifetime Experience.
Windsor, ON. Windsor ComiCon presented by Cartoon Kingdom is thrilled to launch the Silver Spoons: A Date with Kate Experience. Led by American Actress Erin Gray who portrayed Kate Summers-Stratton on the 80's iconic tv hit Silver Spoons, fans will have the ability to participate in an exclusive once-in-a-lifetime opportunity to interact with her later this Fall while learning more about her experiences on the show. Details of this experience include:
Silver Spoons Experience: A Date with Kate
Spago Trattoria (Caesars Windsor); Saturday, September 21, 2019 (1:00-2:30 p.m.)
Includes:
• An Exclusive Date with "Kate Summers" – Erin Gray
• An Intimate Silver Spoons Panel
• A Plated Meal from Spago Trattoria*
• A Selfie with Erin Gray
• An Unforgettable Lifetime Experience!
Price: $149+HST Limit: 24 Attendees.
* Plated Meal Options Include:
Option 1: Antipasti – Bruschetta; Primo Piatto – Insalata di casa
Secondo Piatto – Pollo Al limone: Boneless skinless chicken breast and sauteed mushrooms finished in a white wine lemon sauce; plated with penne blush along with coffee and tea.
Option 2: Antipasti – Bruschetta; Primo Piatto – Insalata di casa
Secondo Piatto – Pollo Speciale: Breaded chicken breast prepared with spinach, fresh mushrooms, Spago fresh tomato sauce with a touch of cream; plated with seasonal veggies along with coffee and tea.
Fans can reserve a spot for their once-in-lifetime Silver Spoons Experience online at https://www.windsorcomicon.com/tickets/ A ticket to Windsor ComiCon is required to participate in this experience as well.
"We are excited to offer fans this intimate opportunity with one of tv's most recognizable stars of the 80's," says Cartoon Kingdom Co-Owner, Arlen Mifflin.
Windsor ComiCon is presented by Cartoon Kingdom.
*30*
Jeremy Renaud
General Manager – Windsor ComiCon
Phone: 519.566.1735 I Email: jeremy@windsorcomicon.com
ABOUT WINDSOR COMICON: Windsor ComiCon presented by Cartoon Kingdom is an all-ages event, featuring popular genres such as: comics, sci-fi, horror, gaming, and anime / cosplay. The colossal event will take place inside The Colosseum at Caesars Windsor (September 21-22, 2019). For more information, visit: www.windsorcomicon.com