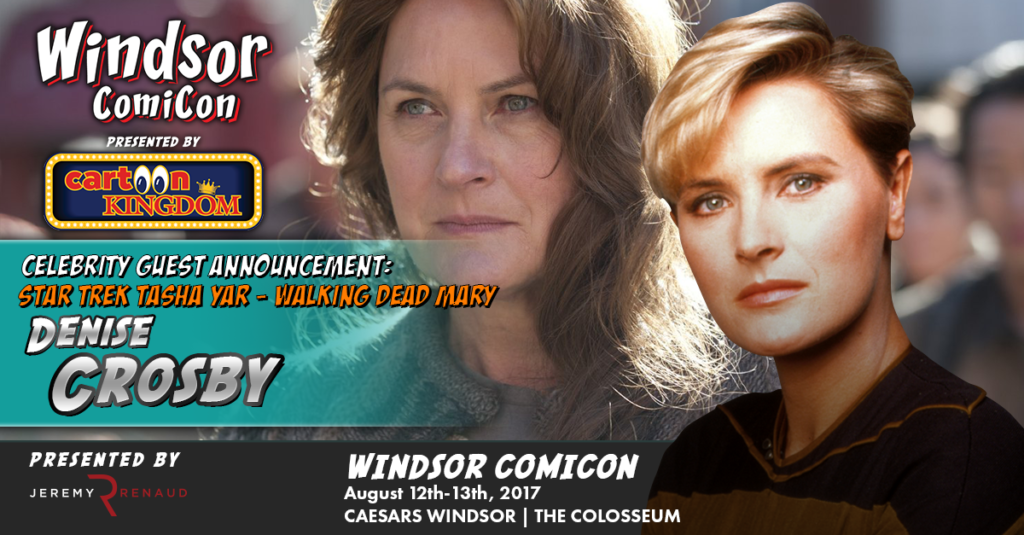 ENTERPRISE-D CHIEF OF SECURITY REPORTS FOR DUTY
COMICON WELCOMES LEGENDARY STAR TREK LIEUTENANT AND WALKING DEAD ACTRESS DENISE CROSBY.
Windsor, ON. Windsor ComiCon is pleased to welcome Denise Crosby to the show's line-up for 2017.
Noted for her role as Lieutenant Natasha "Tasha" Yar, Chief of Security aboard the Starfleet starship USS Enterprise-D, Crosby appeared on and off throughout the legendary series, Star Trek: The Next Generation (TNG). Crosby first appeared during the show's pilot, "Encounter at Farpoint" then was killed off in the 23rd episode "Skin of Evil" before returning to the bridge to make some of the most memorable and iconic appearances in "Yesterday's Enterprise" and "All Good Things…" She also appeared as Yar's own daughter, the half-Romulan Commander Sela during several TNG episodes.
Inspired by the character Vasquez in the 1986 film Aliens, Crosby's role in TNG would tie-in strong female leads between Star Trek: The Original Series and later, Star Trek: Deep Space Nine and Voyager. Her character in TNG also served as the springboard and inspiration for Kara Thrace "Starbuck" (portrayed by Katee Sackhoff) in the 2004 version of Battlestar Galactica. Crosby would then produce and narrate the 1997 documentary Trekkies followed by the 2003 sequel Trekkies 2 while lending her voice to video games including Star Trek Online.
Since the days aboard the Enterprise, Crosby would go on to appear in a myriad of shows; more notably as Mary, a member of the Group of Cannibals on AMC's The Walking Dead along with appearances on Ray Donovan and Bones. Along the way, she has appeared in episodes of Southland, Prison Break, Mad Men, Dexter, Key West The X-Files, NYPD Blue, Baywatch, Lois & Clark: The New Adventures of Superman and The Flash through to Days of Our Lives. On the movie and music front, she appeared in 48 Hrs, Trail of the Pink Panther, Pet Sematary, Jackie Brown, Deep Impact as well as horror movies Legend of the Phantom Rider and Mortuary through to Black Sabbath's music video "No Stranger Love," from the album Seventh Star.
"Windsor ComiCon is thrilled to welcome Denise Crosby to the show," says General Manager, Colin Douglas. "She played a critical role in the Star Trek universe and beyond through shows like The Walking Dead."
Denise Crosby is presented by Jeremy Renaud.
*30*
Jeremy Renaud
Marketing, Sponsorship & Public Relations Coordinator – Windsor ComiCon
Phone: 519.566.1735 I Email: jeremynrenaud@gmail.com
ABOUT WINDSOR COMICON: Windsor ComiCon is an all-ages event, featuring popular genres such as: comics, sci-fi, horror, gaming, and anime / cosplay. The colossal event will take place inside The Colosseum at Caesars Windsor (August 12-13, 2017). For more information, visit: www.windsorcomicon.com