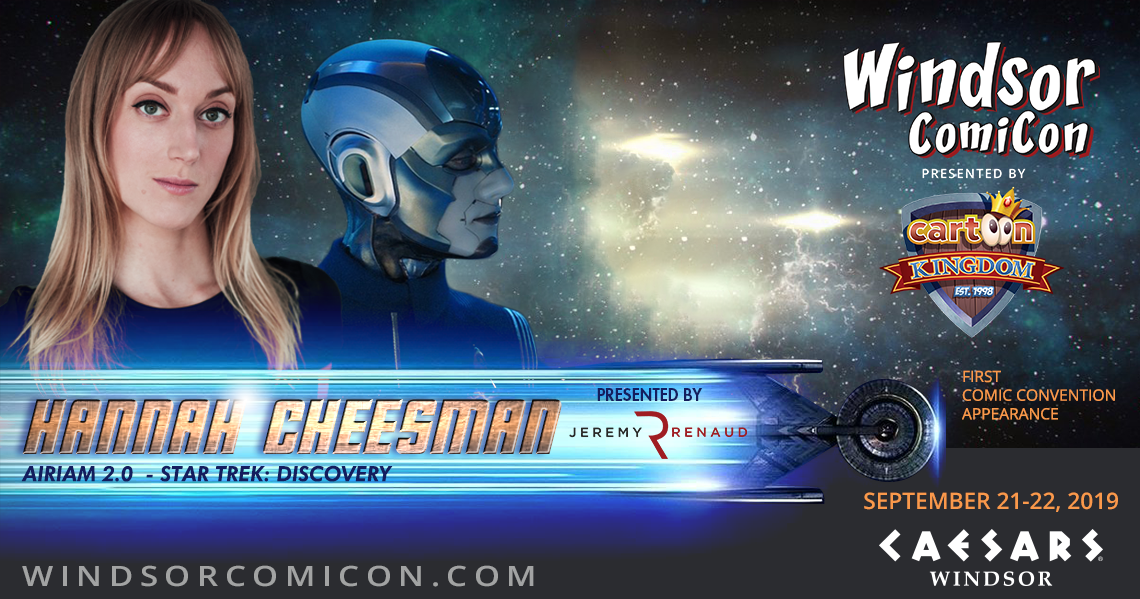 AIRIAM 2.0 HEADS TO THE READY ROOM!
Windsor ComiCon Welcomes Star Trek: Discovery's Hannah Cheesman to its 2019 Guest Line-Up.
Windsor, ON. Windsor ComiCon presented by Cartoon Kingdom is pleased to welcome Canadian actress Hanna Cheesman to its 2019 Guest line-up who will be making her first-ever convention appearance to the show this Fall.
As a cult fan favourite, Cheesman joined the Discovery Crew as Airiam 2.0 behind Sara Mitich who held the role previous onto which the latter actress was later recast as Lt. Nilsson on Star Trek: Discovery.
Outside of the Star Trek Universe, Cheesman is a CSA-nominated filmmaker, writer and actor. Named a Playback Five to Watch and a TIFF Emerging Canadian Filmmaker, Cheesman's hit digital series Whatever, Linda is currently in development for television with Bell Media alongside EP Graeme Manson (Orphan Black, Snowpiercer), and recently scooped up the top prize during Cannes' inaugural 'Canneseries In Development' competition (2018). Cheesman has directed and written three short films (Emmy, Cheese and Brunch Bitch) as well as co-directing her first feature film, The Definites (Whistler, Cucalorus), and has written on such shows as Workin' Moms and Find me in Paris. Currently, Cheesman is writing her second feature film Boring Girls (based on Sara Taylor's novel of the same name) with Aiken Heart Films. She is also developing her forthcoming 30-minute cable dark comedy, Badger, co-producing alongside Patrick O'Sullivan (High Dive Media) and with her own company, The Long Reach Company.
To view Cheesman's complete resume, please visit: https://www.imdb.com/name/nm2756114/
"We are thrilled to welcome Hannah Cheesman to the show," says Windsor ComiCon President, Colin Douglas. "Our Star Trek crew is loaded with tremendous talent this year through which attendees will come to enjoy at the show this Fall!"
Cheesman will be on-site at Windsor ComiCon all weekend long to meet with fans. She will also be participating in a rare Star Trek: Discovery Experience along with cast members Doug Jones, Sara Mitich and Ronnie Rowe Jr.
Hannah Cheesman is presented by Jeremy Renaud.
*30*
Jeremy Renaud
General Manager – Windsor ComiCon
Phone: 519.566.1735 I Email: jeremy@windsorcomicon.com
ABOUT WINDSOR COMICON: Windsor ComiCon presented by Cartoon Kingdom is an all-ages event, featuring popular genres such as: comics, sci-fi, horror, gaming, and anime / cosplay. The colossal event will take place inside The Colosseum at Caesars Windsor (September 21-22, 2019). For more information, visit: www.windsorcomicon.com