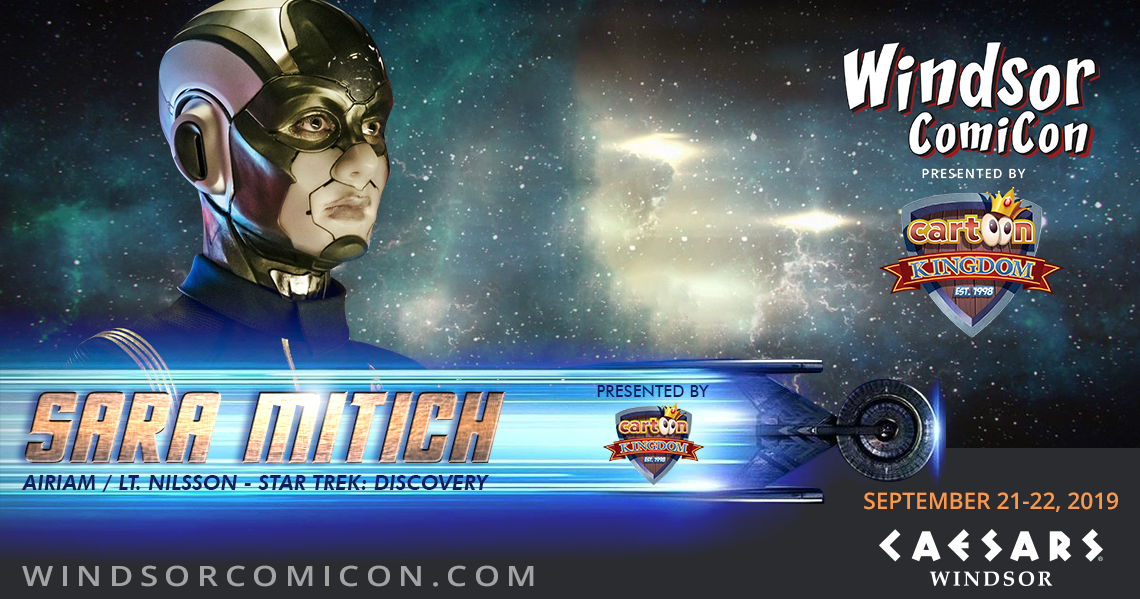 AIRIAM TO BEAM DOWN TO THE COLOSSEUM
Windsor ComiCon Welcomes Star Trek Discovery's Sara Mitich to its 2019 Guest Line-Up.
 Windsor, ON. Windsor ComiCon presented by Cartoon Kingdom is pleased to welcome Canadian actress Sara Mitich to its 2019 Guest line-up.
As a fan favourite, Mitich is known for her roles as Airiam and Lt. Nilsson on Star Trek: Discovery. As an actress, she is defined by her passion, discipline and remarkably wide range of skill.
Outside of the Star Trek Universe, Mitich appeared in White Knight (2017), The Expanse (2015-2016) and Ashes (2017). To view Mitich's complete resume, please visit: https://www.imdb.com/name/nm4476951/?ref_=nmbio_bio_nm
"We are thrilled to both sponsor and welcome Sara Mitich to the show," says Cartoon Kingdom Co-Owner, Arlen Mifflin. "This week will be loaded with exciting Star Trek Discovery announcements. We ask fans to stay tuned!"
Mitich will be on-site at Windsor ComiCon all weekend long to meet with fans.
"Not only will fans be treated to some more exciting announcements but will have the opportunity to participate in an exclusive Star Trek Discovery Experience! We look forward to sharing more news about this opportunity in the near future," says Cartoon Kingdom Co-Owner, Nat St. Pierre.
Sara Mitich is presented by Cartoon Kingdom.
Tickets for Windsor ComiCon 2019 will go on sale (both online and in-store) during the Week of July 22, 2019. VIP Experiences will also go on sale during the Week of July 22, 2019; online only at windsorcomicon.com
 *30*
Jeremy Renaud
General Manager – Windsor ComiCon
Phone: 519.566.1735 I Email: jeremy@windsorcomicon.com
 ABOUT WINDSOR COMICON: Windsor ComiCon presented by Cartoon Kingdom is an all-ages event, featuring popular genres such as: comics, sci-fi, horror, gaming, and anime / cosplay. The colossal event will take place inside The Colosseum at Caesars Windsor (September 21-22, 2019).  For more information, visit: www.windsorcomicon.com