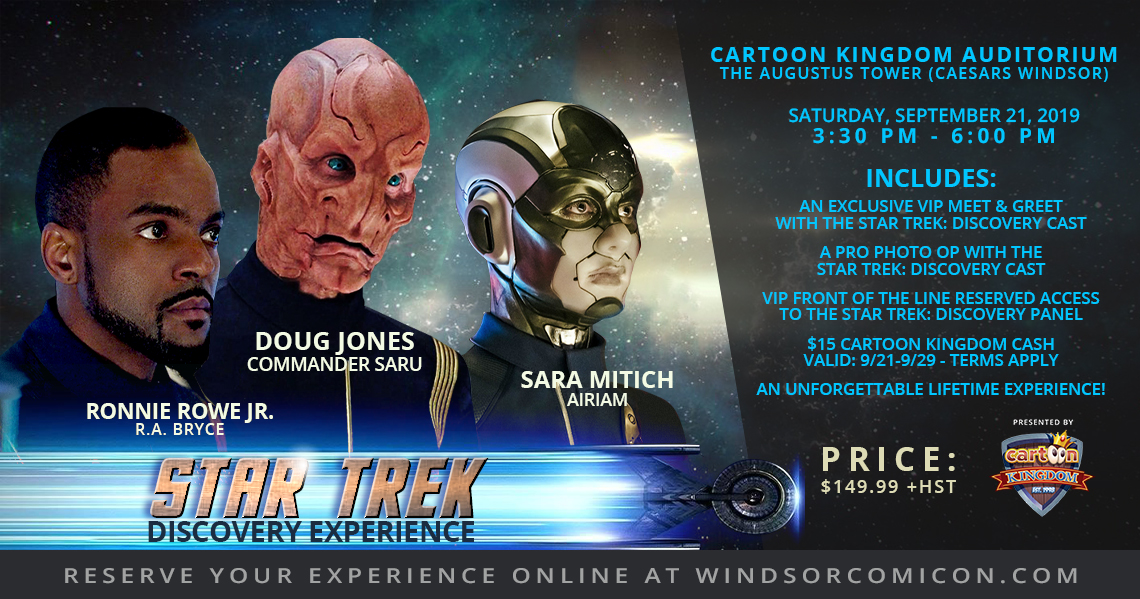 BLACK ALERT! DISCOVERY CREW PREPARES TO JUMP TO THE WINDSOR QUADRANT!
Windsor ComiCon prepares to offer fans an unforgettable once-in-a-lifetime experience.
Windsor, ON. Windsor ComiCon presented by Cartoon Kingdom is thrilled to offer Star Trek: Discovery fans its next exciting experience of the 2019 season. With excitement in the air as the crew prepares to make the jump to the Windsor quadrant, ComiCon has set an 'Alert Condition Black' – "Black Alert" to prepare fans for its ultimate once-in-a-lifetime Star Trek: Discovery Experience this Fall.
Led by Commander Saru (Doug Jones) and away team members Lt. Commander Airiam (Sara Mitich) and Lt. R.A. Bryce (Ronnie Rowe Jr.), the Discovery crew will offer fans an exclusive opportunity to interact with them later this Fall while learning more about their experiences. Details of this experience include:
Star Trek: Discovery Experience
Cartoon Kingdom Auditorium – Augustus Tower (Caesars Windsor)
Saturday, September 21, 2019 (3:30-6:00 p.m.)
Includes:
• An Exclusive VIP Meet & Greet with the Star Trek: Discovery Cast
• A Pro Photo Op with the Star Trek: Discovery Cast
• VIP Front of the Line Reserved Access to the Star Trek: Discovery Panel
• $15 Cartoon Kingdom Cash Valid: 9/21-9/29 – Terms Apply*
• An Unforgettable Lifetime Experience!
Price: $149+HST
* Cash can be applied to merchandise of $30 or more (before tax) at the Cartoon Kingdom Booth at Windsor ComiCon or in-store at its retail location (2001 Provincial Rd. behind SilverCity Windsor Theatre)
Fans can reserve a spot for their once-in-lifetime Star Trek: Discovery experience online at https://www.windsorcomicon.com/tickets/
A ticket to Windsor ComiCon is required to participate in this experience.
"We are absolutely thrilled to offer this experience to all attendees of Windsor ComiCon," says Cartoon Kingdom Co-Owner, Nat St. Pierre "Fans of Star Trek: Discovery will be able to meet some amazing talent while also learning from their experiences."
About the U.S.S. Discovery Crew:
Doug Jones is known to fans as Commander Saru aboard the U.S.S. Discovery. Outside of the Star Trek Universe, Jones was featured in Del Toro's Hellboy (2004), Pan's Labyrinth (2006), Hellboy II: The Golden Army (2008), Crimson Peak (2015) and The Shape of Water (2017) to name a few.
Sara Mitich portrays Lt. Commander Airiam and Lt. Nilsson on Star Trek: Discovery. Beyond Star Trek, Mitich appeared in White Knight (2017), The Expanse (2015-2016), Ashes (2017) and as Lillian Moss in Seasons 8 and 9 of Murdoch Mysteries (2008-).
Rowe Jr. is known to fans as Lt. R.A. Bryce aboard the U.S.S. Discovery. He also appeared in A Simple Favour (2018), Black Cop (2017), The Strain (2016) and The Expanse (2015) to name a few.
"Attendees are also welcome to ask these guests about their other work and experiences," says Cartoon Kingdom Co-Owner, Arlen Mifflin "We are pleased to offer the Windsor community a truly memorable experience and invite fans of all ages to attend!"
Windsor ComiCon is presented by Cartoon Kingdom.
*30*
Jeremy Renaud
General Manager – Windsor ComiCon
Phone: 519.566.1735 I Email: jeremy@windsorcomicon.com
ABOUT WINDSOR COMICON: Windsor ComiCon presented by Cartoon Kingdom is an all-ages event, featuring popular genres such as: comics, sci-fi, horror, gaming, and anime / cosplay. The colossal event will take place inside The Colosseum at Caesars Windsor (September 21-22, 2019). For more information, visit: www.windsorcomicon.com