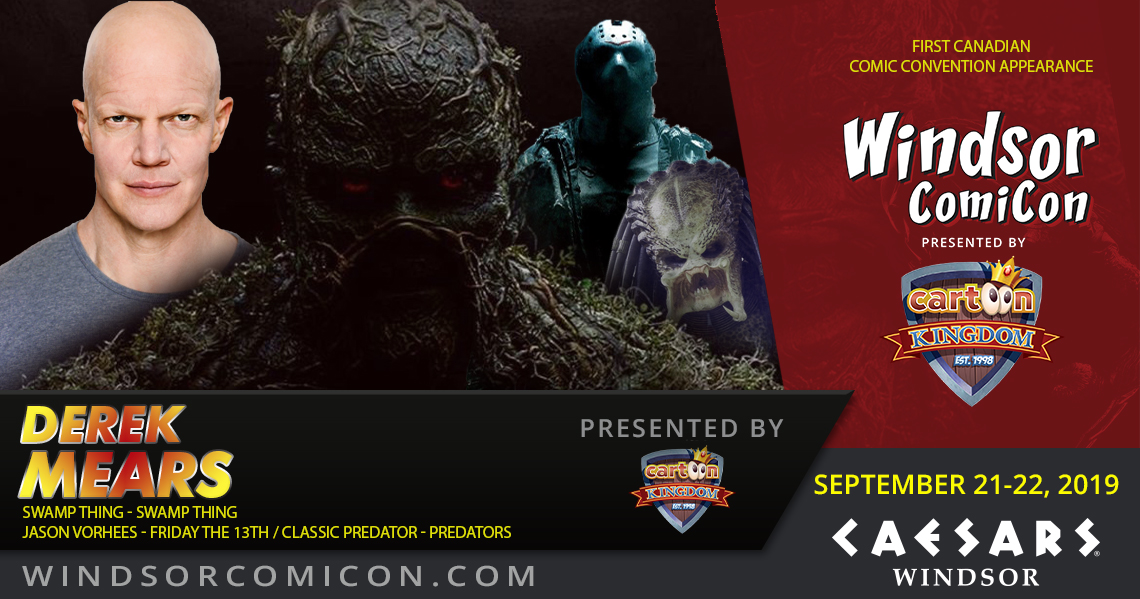 SWAMP THING HEADS TO WINDSOR!
Derek Mears to Debut 1st Canadian Comic Convention Appearance at Windsor ComiCon.
 Windsor, ON. Windsor ComiCon presented by Cartoon Kingdom is thrilled to welcome Derek Mears to this year's guest line-up. Mears will be debuting his 1st Canadian Comic Convention appearance at this year's show, which will be taking place at Caesars Windsor; September 21-22, 2019.
As a fan favourite who has transcended several pop culture genres, Mears plays the pivotal role of the Swamp Thing in the Swamp Thing (DC Universe) TV series (2019). More recently, he portrayed Romo in Alita: Battle Angel (2019). Of seminal importance, he has played several key characters, more notably as the alien trophy hunter, the Classic Predator in Predators (2010) and as Crystal Lake's iconic killer that served up a variety of grizzly murders as the death dealing Jason Vorhees in Friday the 13th (2009).
"We are ecstatic to both welcome and sponsor Derek Mears to this year's show," says Cartoon Kingdom Co-Owner Arlen Mifflin. "He's a great guest that will draw fans from a variety of pop culture genres to Windsor."
Mears has also appeared in a variety of TV shows and movies including but not limited to The Flash (2018), Agents of S.H.I.E.L.D. (2017), Grimm (2013), Sons of Anarchy (2013), Percy Jackson: Sea of Monsters (2013), Pirates of the Caribbean: On Stranger Tides (2011), Resident Evil: Degeneration (2008), Men in Black 2 (2002) and The Tick (2001).
To learn more about Mears' complete work, please visit: https://www.imdb.com/name/nm0575216/
"Derek Mears ticks all the boxes in terms of who fans have requested on the fantasy, hero, horror and sci-fi fronts," says Cartoon Kingdom Co-Owner Nat St. Pierre. "We are genuinely excited for this year's show and attendees who will have the chance to meet him during his 1st debut appearance in Canada."
Mears will be appearing at the show all weekend long and will be stationed within Cartoon Kingdom's exhibitor booth located at the heart of the show next to the Ultra Pro Autograph Pavilion.
Derek Mears is presented by Cartoon Kingdom.
 *30*
Jeremy Renaud
General Manager – Windsor ComiCon
Phone: 519.566.1735 I Email: jeremy@windsorcomicon.com
ABOUT WINDSOR COMICON: Windsor ComiCon presented by Cartoon Kingdom is an all-ages event, featuring popular genres such as: comics, sci-fi, horror, gaming, and anime / cosplay. The colossal event will take place inside The Colosseum at Caesars Windsor (September 21-22, 2019).  For more information, visit: www.windsorcomicon.com