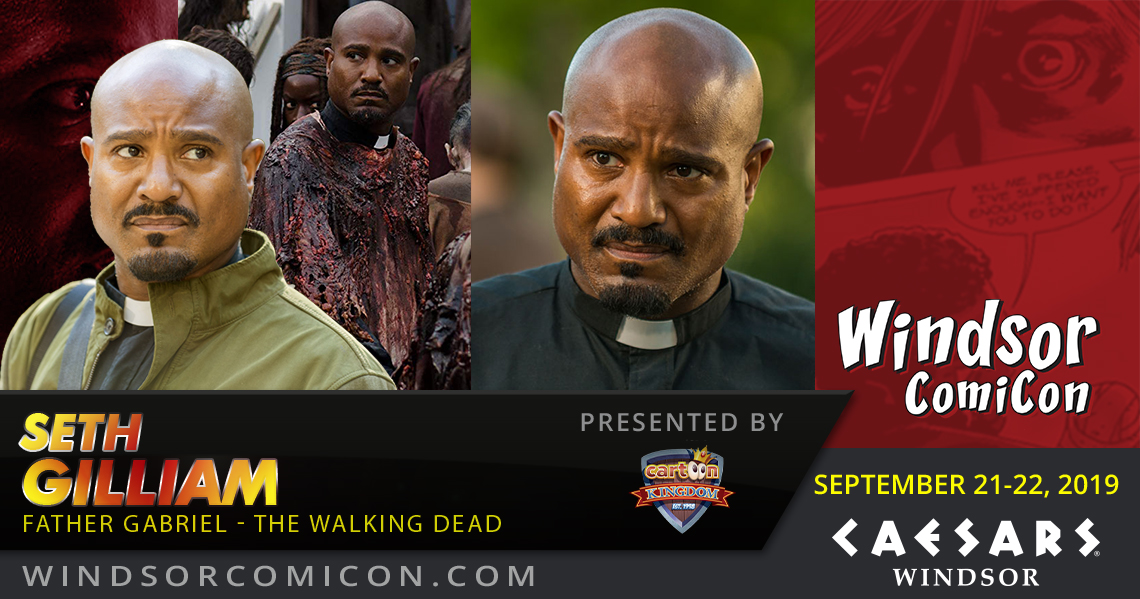 FATHER GABRIEL HEADS TO THE COLISSEUM
Windsor ComiCon Announces The Walking Dead's Seth Gilliam as its Second Guest of the 2019 Season.
 Windsor, ON. Windsor ComiCon is pleased to announce its second guest of the 2019 season through Seth Gilliam.
Known to fans as Father Gabriel on AMC's critically acclaimed hit, The Walking Dead, Gilliam starred in movies as Sergeant Steven Altameyer in Courage Under Fire (1996) and as Private Sugar Watkins in Starship Troopers (1997).
Gilliam has had a number of recurring roles on television, including during the seventh season of The Cosby Show as Aaron Dexter, boyfriend of Erika Alexander's character, and as Dr. Alan Deaton on MTV's Teen Wolf. His most prominent role, however, has been as Ellis Carver on The Wire. He has also had a number of guest roles in other shows such as CSI: Miami, Nurse Jackie, Skins, Person of Interest and The Good Wife. He played Clayton Hughes on Oz.
"We are excited to welcome Seth Gilliam to the show," says President Colin Douglas.
"Fans of The Walking Dead will be excited to meet him this Fall," says Cartoon Kingdom Co-Owner Arlen Mifflin.
 Seth Gilliam is presented by Cartoon Kingdom.
 *30*
Jeremy Renaud                                                                               
General Manager – Windsor ComiCon
Phone: 519.566.1735 I Email: jeremy@windsorcomicon.com
 ABOUT WINDSOR COMICON: Windsor ComiCon is an all-ages event, featuring popular genres such as: comics, sci-fi, horror, gaming, and anime / cosplay. The colossal event will take place inside The Colosseum at Caesars Windsor (September 21-22, 2019).  For more information, visit: www.windsorcomicon.com